Inspiration for Big Trouble
This isn't a post to explain how to get inspired to get yourself into 'big trouble'. It is more of a recap of a family vacation. A family vacation that I used as the map for my book.
I just released my first book in June: Big Trouble in Little Italy. (You may or may not have heard about that. I fear I've been hysterically overzealous in my exclaiming from rooftops of my joy of finally accomplishing my life long goal.)
I digress.
If you've read the book, you might have a curiosity about the inspiration. If you have not read the book, you might want to see pretty pictures. Cool. Let's go!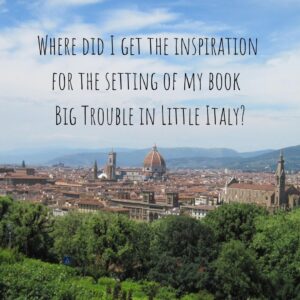 The above picture is of my mom, dad, sister and grandmother on the least romantic gondola trip a girl could ask for. The photo is grainy because this was before everyone had a smartphone attached to their hands. It's an old fashioned photo.
Our family packed up for our trip of a life time, my mom rented a limo to take us to LAX. It was 4:30 in the morning. I was excited and exhausted. We flew through New York and landed in Milan, rented a car and drove to Lake Como. That's how my family did it.
My main character was running on exhaustion and adrenaline. Once she landed in Milan, she took a taxi to Como.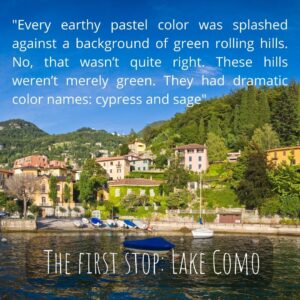 Lake Como is in Northern Italy and "is known for its dramatic scenery, set against the foothills of the Alps." Aka, you know the picture you see of George Clooney's house? It's on lake Como.  There's a whole list of movies filmed on and near Lake Como. It is also where you can find the town of Bellagio, made famous by Las Vegas that houses the Bellagio Hotel and Casino.
We drove from Lake Como to Venice after checking out of our hotel and packing our family into the Italian rental car that was too big for those small towns and small streets.
My characters drove under the darkness of night.
Throughout a lot of my writing, when it comes to Italy, I've re-read  various journals I kept while on the road. It is always fun to immerse myself in the memories and create a story out of them. I've written about Venice before here on my blog:
We dined on fresh seafood pasta. We rolled our eyes heavenward as the first bite awoke our taste buds. We walked, leisurely, as the city would have it, among music filled piazzas. We were baptized in jazz and nourished by bubbling prosecco.

Somehow we found our way to the most treasured of Venetian activities. A moonlit gondola ride.

Our gondolier was gracious and lovely. He looked everything a proper gondolier to be, handsome, well-built for the task. His skin bronzed from his hours on the water. And a blousy white shirt, something right off the cover of a romance novel.

We eagerly climbed aboard with the help of our gondolier.

If you are a regular reader of my meanderings, you'll know that my life is often dipped in wonderful irony. For example, this moment I've been thinking about, and writing about for my characters…when it was my turn to board the gondola in Venice, what should have been a most romantic moment of my life came attached to a family vacation.

My mom and dad got in the boat first, then my grandmother, then my sister, then myself. Most gondolas can fit six to seven people. Did you know that? I do. Also, it's more expensive to take a gondola ride at night than it is to go during the day. And you don't just drift through canals quietly, romantically. It's an actual tour they take you on.

When you're with your family.

In Venice.

In a gondola.

In the moonlight.
Read more HERE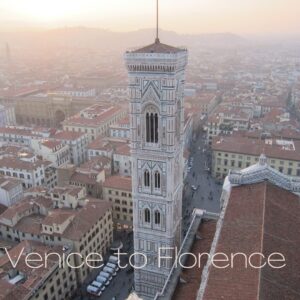 My sister went to Florence for a Study Abroad program. She figured out how to stay an extra year. Then she never came back to the States. I'm cool by association: My sister lives in Florence.
This is one of the reasons I write overly much about Italy. Because it's an excuse to visit often. Because my sister had Italian babies and I wanted to be able to communicate with them, I learned the language. (Even though the babies speak perfect English.) Because I was a history major and I love learning about the history of a place. But the main reason I set my book in Italy?
So while my family spent the hottest summer in 500 years in hotel rooms without air conditioning, my main characters set up camp in the Tuscan Country side. Of course, there were day trips into town for these characters.
And there was Italian food and my favorite, the Italian cappuccino.
I've written a lot about Florence. I mean. A LOT! Here's a smattering of my favorite:
Coffee, Clouds and Italy – in which the writer explains why she writes overly much about those three things.

Why Italy? – in which the writer ponders the glory of Florence and what draws the artists to Her.

Daydreaming in Florence – in which the writer takes a dreamy look at Florence in the summertime and wonders at the way history meets up with the present.

Buongiorno Florence – in which the writer waxes poetically about her tourist day in Tuscany.
Anyway…
…after rushing from one tourist attraction to the other, my family drove to Rome. My dad was a hero, learning to drive on the fly in another country. I'm telling you right now, the street signs are mere suggestions and the how-to of driving on the local express ways are difficult to navigate. But none of the traffic and round abounds had prepared my dad for driving in Rome. We made it to the hotel and kept the car parked there. We took public transportation while in Rome.
My main characters…well, telling you HOW they arrived would give too much away.
Every good vacation and adventure comes to an end, and there is a time to go home. Sunburnt and exhausted and enlightened.
I hope you enjoyed a glimpse into the physical locations that my book took place in. I didn't start out with an idea of where my main characters would go. I write on the fly, if I plan anything, it's often just a napkin size note that says "this and then this happens and then this and wrap up." So it was nice to have the memory of this trip locked and loaded. So I could attempt to give my readers a tangible experience.
Now, please excuse me while I place this "blatant self promotion" right here:
If you want to read the real adventure of these 'characters'
I talked about, get your copy of Big Trouble in Little Italy today.