So here I sit, 5:30 am, an Italian Kitchen in Florence Italy. I can't sleep and sure a bit of it is jet lag, but a bigger part is just excitement. I'm wired to not sleep when I'm doing things like this, when I'm on adventures like this. Case and point, my most recent trip to Hawaii in December, I was supposed to be on a sort of second honeymoon. Yeah, didn't sleep much at all there. Wish I could add a wink wink nudge nudge to that comment, but the reality was I was too excited to sleep. The worry I might miss something hung in the air and I was up at 4:45 every day. Ready to explore and experience.
So sleep is for the weary and I'm not quite weary just yet.
I write and wait for the household to wake up. I'm able to organize my bags a bit, pull out all the presents I've brought for everyone. Finally my sister is awake, she shuffles to the kitchen to make breakfast for her daughter and coffee. The Italian stovetop espresso maker is placed on top of the stove, it's seasoned and aged. Like most espresso makers I've come to find, you don't scour them until they sparkle, you wash them gently and the caked on coffee adds to the flavor. I suppose the same goes for iron skillets.
I try to take my time with my caffe, but it's so strong and rich and hot and I'm still a bit punchy from jet lag that I can't just take my time, really.
It's a holiday here in Florence, the feast day of the patron saint of the city. A lot is close within the City but outside Florence, things are open. We decide to have a bit of an adventure and head north about 25 minutes into the hills to a small town called Castelfranco di sopra. Literally, that translates to "French castle on top". On top of what I'm not sure.
We stopped at a café first, one of my favorite. A staple for myself. Marcello Pasticceria. Thank the Roman Gods for Marcello. The pastries are heavenly and it was a soothing balm to my spirit to walk into the café and use the Italian I've worked my ass off to learn. Another reason I am so excited to make the most of this trip is for the language. I am so grateful to be able to use another language and sure, there is a sense of pride when I speak the native tongue and the locals have a surprised look on their face.
After a cappuccino, it's onto the autostrada. Good lord!
There are colors of green and brown and yellow that paint the Tuscan countryside that are absolutely breathtaking. I have been lucky enough to drive through these parts several times, at different times of the year, and they never cease to amaze me.
Sage green, forest green, and cypress green mingle with the golden hues of fields that have already been harvested for hay. Trees that resemble home, but which have a flare of something different, longer branches, or a more feathery covering, or perhaps it is the different hue of the bark on the trees, more of a silver gray than an ash; they add to the dreamy stuff that has made up this countryside.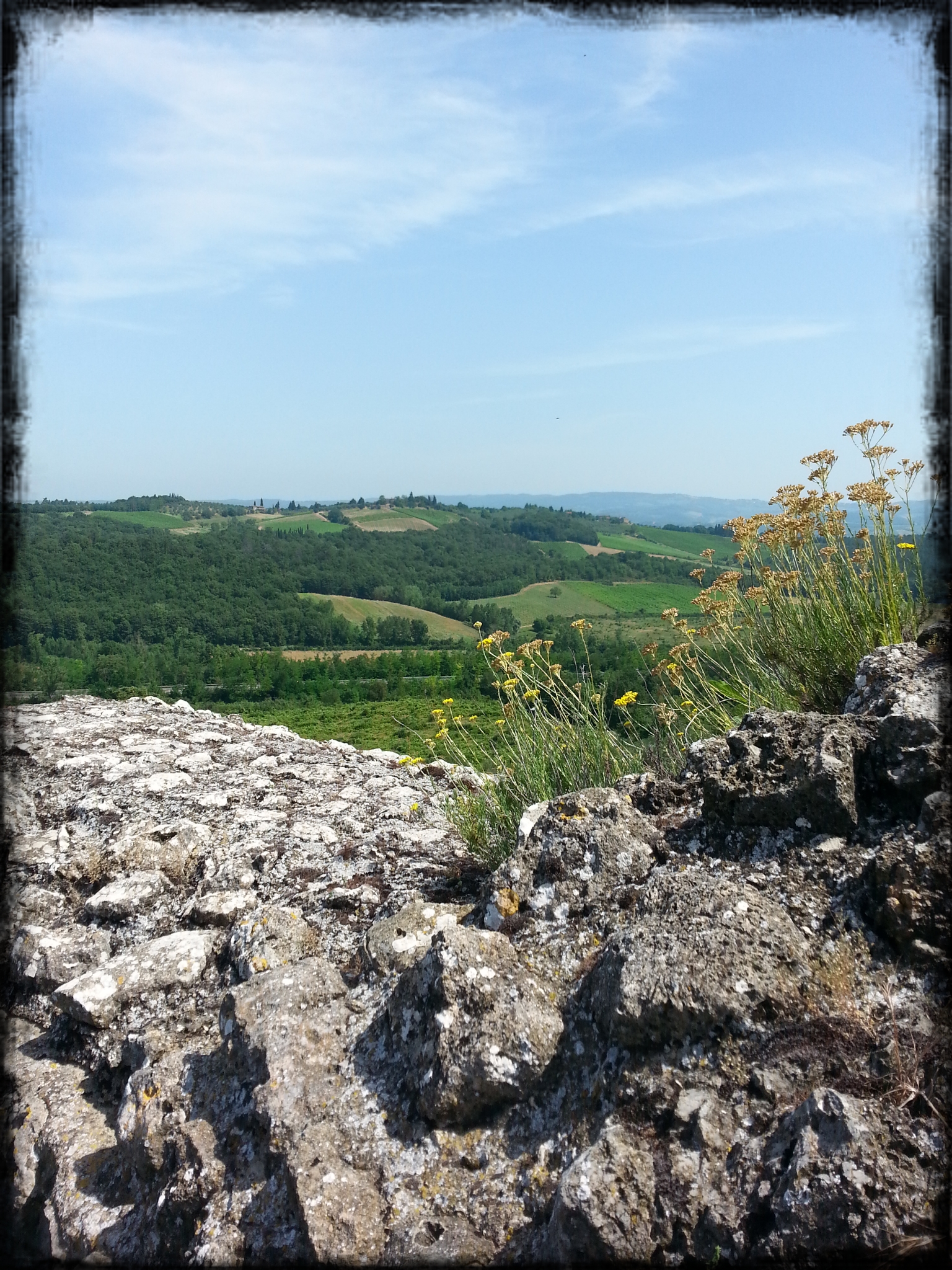 Terracotta roofs dot the areas around the green. Peach, yellow and white walls of villas finish off the perfection of the view before me. I snap random pictures out the window of the moving car, it doesn't even matter if they come out or not. I breathe in moment and finally find a bit of slowing down.
After several wrong turns on roundabouts we finally course correct and find parking on the top of a hill in Castelfranco.
It's a picturesque little town, cobblestone streets, five story connected apartments built over stores. All roads lead to the piazza and we're in lucky, this morning there are vendors set up. They sell fruits and vegetables, dishes and kitchen goods, meats and cheeses, clothes and shoes and you can even pick up a new bra if you feel so inclined. The prices are fair and at least the fruits and vegetables are local. I want to look through each vendors stall, not because I can buy anything, I have limited room for the trip home.
But I want to touch it all, smell it all, breathe it all in. We walk the old streets of the walled city. There is no Rick Steve's guide for this place. And still, I'm a tourist again. I'm standing in the foot steps of greatness as the sweat slips down my back and the heat warms my cheeks and a constant glow is about my face.
We find a café and a bit of shade. We order water and I get another cappuccino. We wash off some of the grapes we bought and the peaches. The warm juice from the fruit is magical. Or perhaps it's the moment I find myself that makes it all magical.
Maybe it's just a peach and a coffee but because it's called a piazza, because we are sitting in a town that was built at least 1500 years ago, because it's a hillside town, because it's located in Tuscany…maybe that mixes together and helps make ordinary moments incredible. And I'm totally okay with that.