Ok, so I'm not going to sleep on this trip…fine by me. I've just doubled up on the air borne, washing my hands and thank the good Lord for my niece, as she is the reason I stop every afternoon and take a breather while she naps.
First things first: Florence in June.
I'm not going to lie to you. It's hot. High of 98 degrees for the past few days and it's also muggy. Bring on the humidity. Those who live in the South East of the States can appreciate this kind of heat. Also because Florence is on a river and it's humid….you guessed it. There are mosquitoes galore. So it's hot and I've got bug bites and I'm not sleeping because I'm too excited.
And I don't give one good damn.
There is a tourist that takes over me, a historian, a lover of the past that finds herself in these moments of awe and suddenly the sun beating down on my head, the sweat that drips un-ladylike down my back, the bites that itch in the heat of the day…it all just dissipates as I reach out and touch an ancient stone in a castle and allow stories of the past hum into the palm of my hand. The smell of the dry dust rises up and I can smell a thousand years of history held in this place. And for a moment, even as other tourists swirl around me like gnats, I become entrenched in something bigger than myself. I can breathe again, it seems, after holding my breath for so very long.
What has me waxing so poetically today? A little hillside town about an hours drive south of Florence called Monteriggioi. It's an old Medieval town. The walls that surround the city are still intact and not much restoration has been done on them. Every year they hold a medieval festival there, with costumes and the like. No cars are allowed within the center of town, unless you live there. But parking can be done at the bottom of the hill and it's a short jaunt to the gates of the city.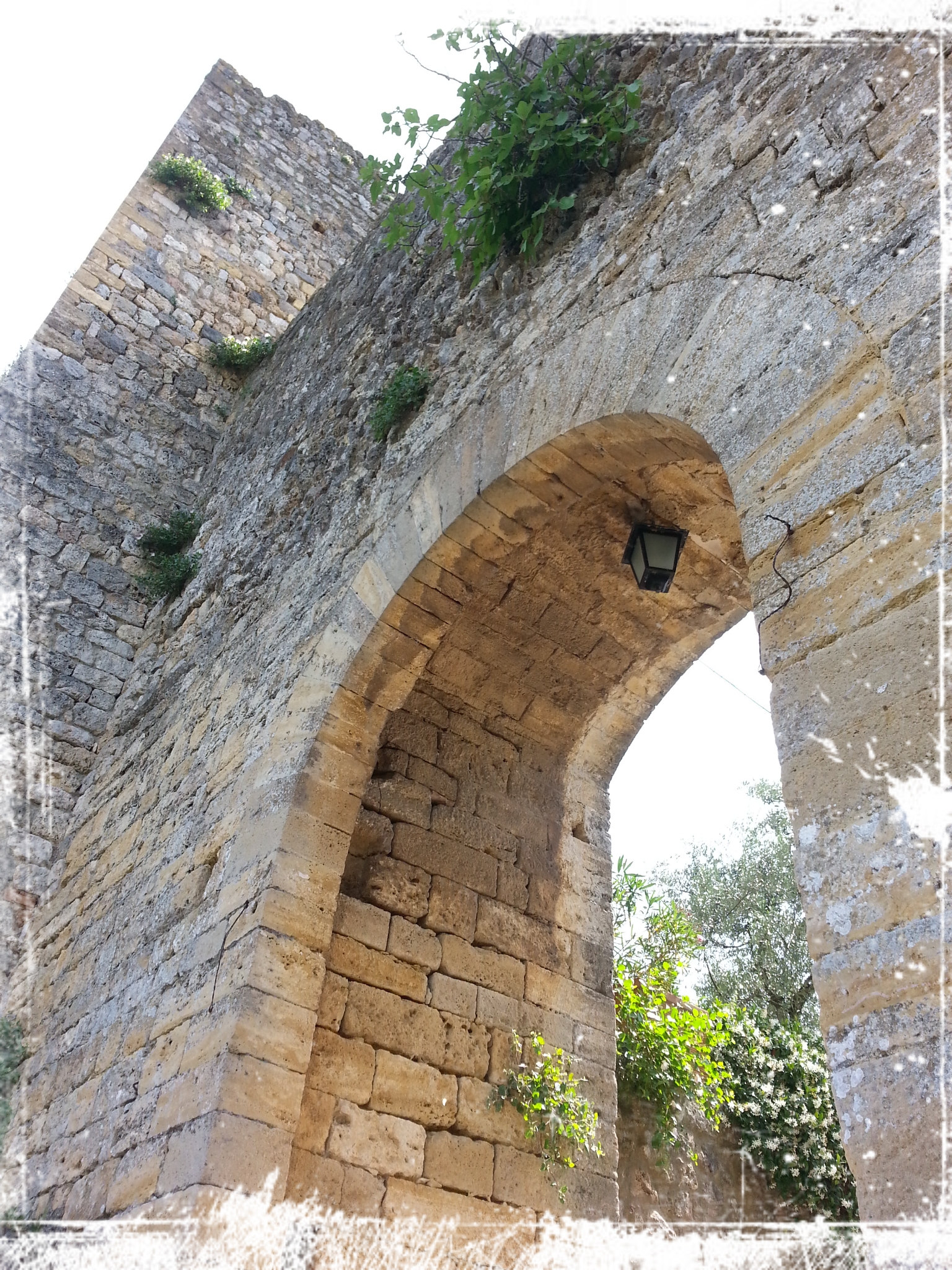 The cobblestone streets are mostly the same as they were hundreds, if not a thousand years ago. Terracotta roof tops peek out from the walled in city, and truly it seems as if time stands still in this small town. The only nod to the twenty first century are the number of stores dedicated to the tourists. But the distance of the city, the fact that it isn't on a major bus line or train line, makes the tourists who do encounter this city a sort of, off the beaten path breed.
We walked the whole city first upon our arrival. The whole city consists of about four streets by four streets. Then we decided on a shaded café to have a cappuccino and a little brioche. It was just perfect.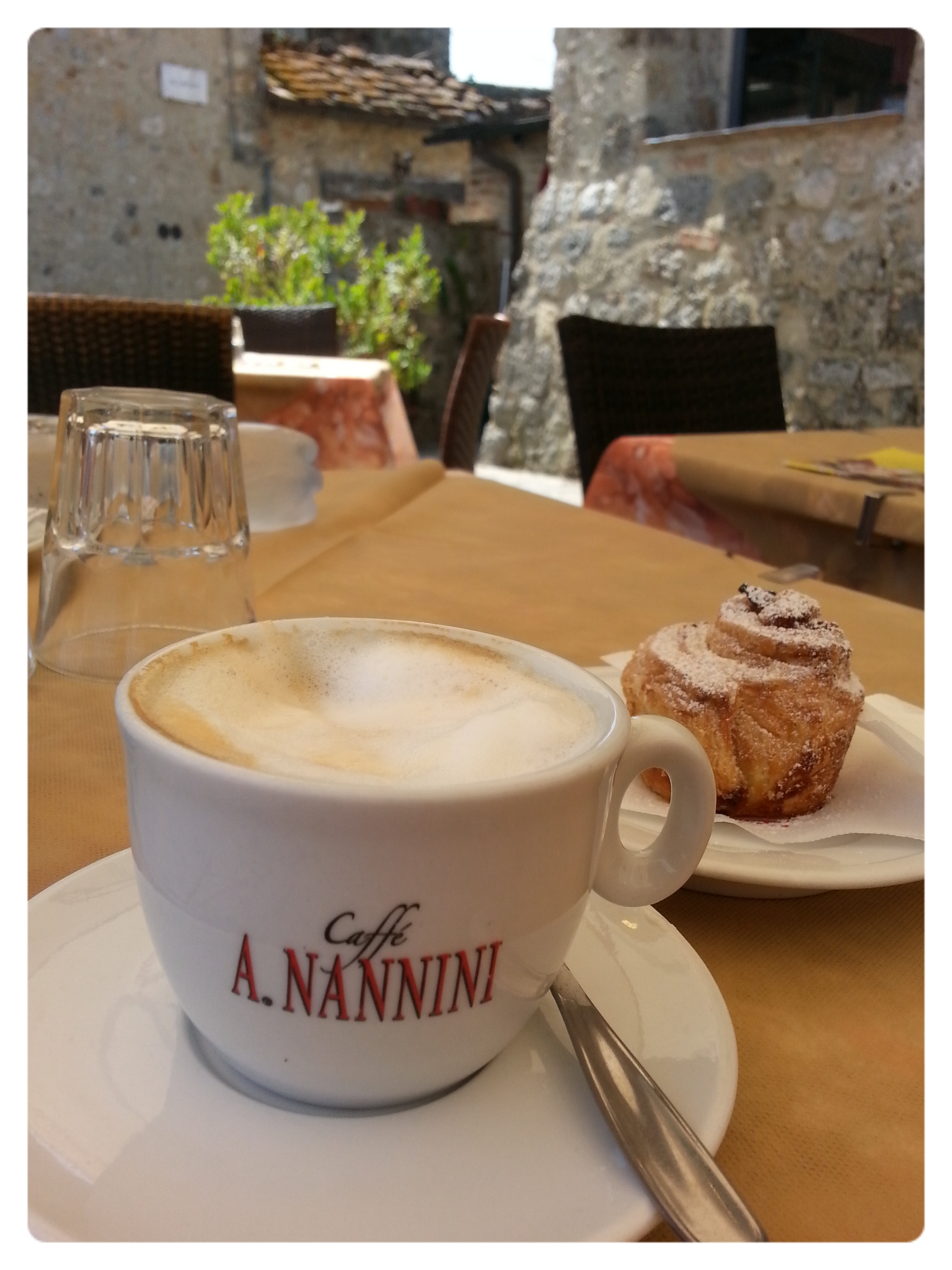 Then I went up the wall.
There are two places on either end of the oblong city where a structure has been placed so tourists can climb a staircase and stand on the battlements of old and take in the overwhelming view. All for 3 Euro. I handed over my fee as if I were in a dream, clicked my way up to the top on the metal stairs and then stood in the warm morning sun as Tuscany stretched her lovely self out before me. Those iconic rolling green and gold hills, dotted with lines of cypress and olive trees. I fell in love again. Time twisted and turned and when I heard a group of tourists coming up behind me, I held onto the ancient wall of the city and nothing else mattered.