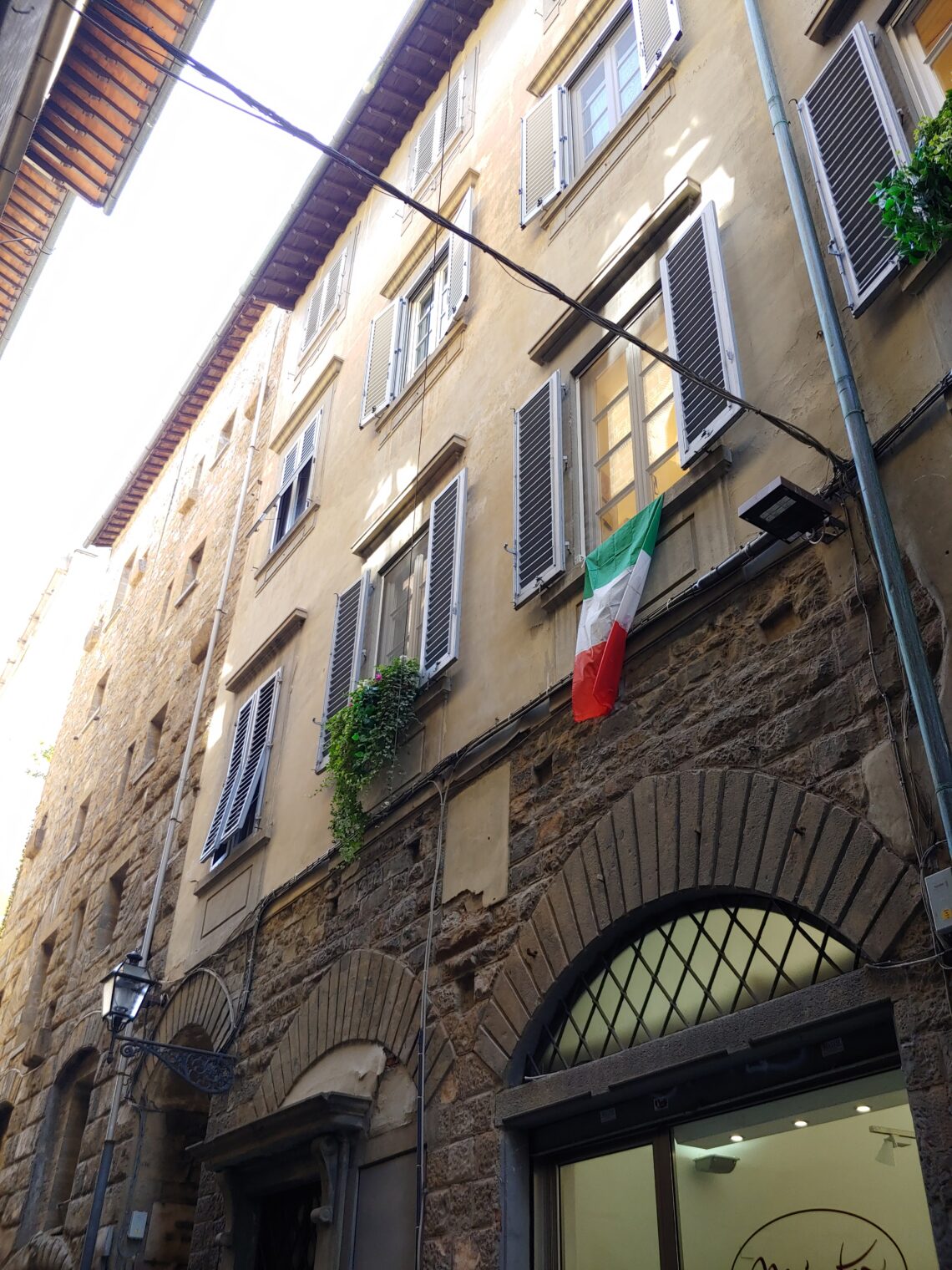 I hitched a ride with my sister to her work. It was nice to have this insight to my sister's life. I know where she works, who she works for, but it was wonderful to put an actual building and faces together with the stories.
I got to visit with a few of her colleagues and stood around the Italian version of the water cooler (which is, you guessed it, a new age espresso vending machine. Just to note, the coffee wasn't bad but it wasn't great.) What made the moment special was being able to communicate with her co-workers.
It was a quick train ride from her office to Santa Maria Novella, the main train station in Florence. This ride is quick, five minutes. There is no need to find a seat, I just stand with the other passengers who've made this trip so many times they stare down at their phones, bored. The train yard looks tired. Cables sag unceremoniously above our heads. Every wall, building, and abandoned train is tattooed from about chest level to the floor with graffiti: tag signs, art, world views, cries for help…they all mingle in a flood of screaming color.

The doors opened on a crowded platform and I grinned like a fool at the organized commotion of travelers arriving, departing, waiting for friends and family and shopping. I swim upstream with the crowd and am spit out into the arms of the birthplace of the Renaissance.
I'm overcome by the surreal-ness of the moment and I'm lost in a daze. I wonder if it happens to everyone. This moment of disbelief where you walk with your head swiveling this way and that, tripping over your feet because everything is so impressive.
 I headed toward the church of Santa Maria Novella as if being pulled by a magnet. I've never been inside. There was never time enough, and my list of sights is always long. This trip, even though time is short, today is all mine. If I wanted to, I could see it all. Or I could just see where the day was going to take me. That idea, seems like the better plan I think.
 Inside Santa Maria Novella, having paid my entrance fee, I sit down and open my handy Rick Steves guide to Florence in order to find out what I was looking at and why it might be important.
Baroque influence, gothic, Romanesque. It all adds up to "I don't have a degree in architecture and I don't always understand it, but I am impressed and awed by the accomplishment."
 I light a candle and drop off a quick prayer and I'm on my way again, driven by a growling stomach.
There might be a coffee shop on every corner in the States, but there are four on every corner in Florence. Okay, that might be a tiny exaggeration. There are three, three coffee shops every hundred feet.  So it becomes difficult to decide where to stop and grab a capu. There is part of me that would like to grab one every hundred feet, but my stomach might not be able to keep up with me if I did that. Besides, today I have an idea of where I would like to have my capu.
I stumble upon the outdoor San Lorenzo Market. It's called this because it lines the streets behind the church of San Lorenzo. Here they sell leather purses, scarves, jewelry, souvenirs, leather jackets and t-shirts. I have a few items in mind I would like to buy, but just smelling the Italian leather and listening to tourists haggle over price seems like enough for now. 
Along the stall lined rows of good for sale, is a break in the line-up. Stairs lead into a war torn two story building that might be cast in the next Mad Max movie. Well, that's what the building looks like. It's called the Mercato Centrale. The building is a damn chameleon. Once inside the Mad Max ideal falls away and stall after glorious stall of fresh fruits and vegetables, cheese as far as the eye can see, salamis and other meats, fresh pastas, fresh pastries, nuts, olive oils and wines can be found. I wanted to plan an entire meal at that very moment and invite everyone I've ever met to a sort of Babette's Feast, Tuscan style. And I don't even know what that means or what it would entail!    
Upstairs at this farmers market on steroids was the café. Fresh pastries, an amazing cappuccino, because I had to have one at that very moment. There were stalls getting ready to serve lunch. But it wasn't lunch time yet.
I tripped out of the Mercato in Centrale and let my feet guide me. I found the Medici's house. One of them. They had a city block made of sturdy stone, now blackened with years of pollution.
I took a right and I slowed down.
I know what's coming.
There is anticipation mingling with excitement. This is all new to me. These feelings. It's like the excitement that comes when you're about to see a dear old friend after a number of years. Maybe I'm excited because this moment is just for me. Because there is no husband or kid with me. Because I am not giving a tour, because it's just me. All alone. Because I love this city and what it stands for.
I slow, watch the faces just ahead of me, the heads looking to the heavens.
Deep breath, I turn the corner and there she is.
Santa Maria Fiore, otherwise known as The Duomo.  
I have to actually wipe the tears away as I gaze upon this domed beauty. An old friend whose face is a balm, who I had not anticipated seeing again for a few more months or perhaps years has moved me to tears.
Tour groups are gathered around their docents, straining to hear about how this marvel was designed and built. Nine or ten horse drawn carriages are vying for space and for a mere 50 Euro for half an hour, you can romantically clip clop your way through the cobblestone streets. Gypsies are busy working for a handout. And the heat beats down on the lines of tourists who are waiting to go inside the church or climb to the very top of the dome itself.  
I'm trying to memorize every moment. Every feeling. Every tourist. Every reaction. And I just know that I'll never be able to do any of it justice.