Writers Write…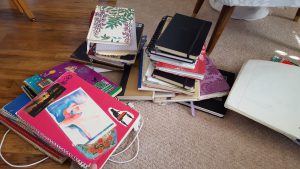 I have found that if you are going to call yourself a writer, you need to do the work. No matter what. No matter the circumstances, no matter your schedule, no matter how you're feeling, you have to write. All the time. Whenever you get a chance.
"Writer's write. Everyone else makes excuses." – Jack M. Bickham
So I write, and sometimes it's not easy.  I thought I would share my process with you,  more or less. Some days it's more, some days it's less.