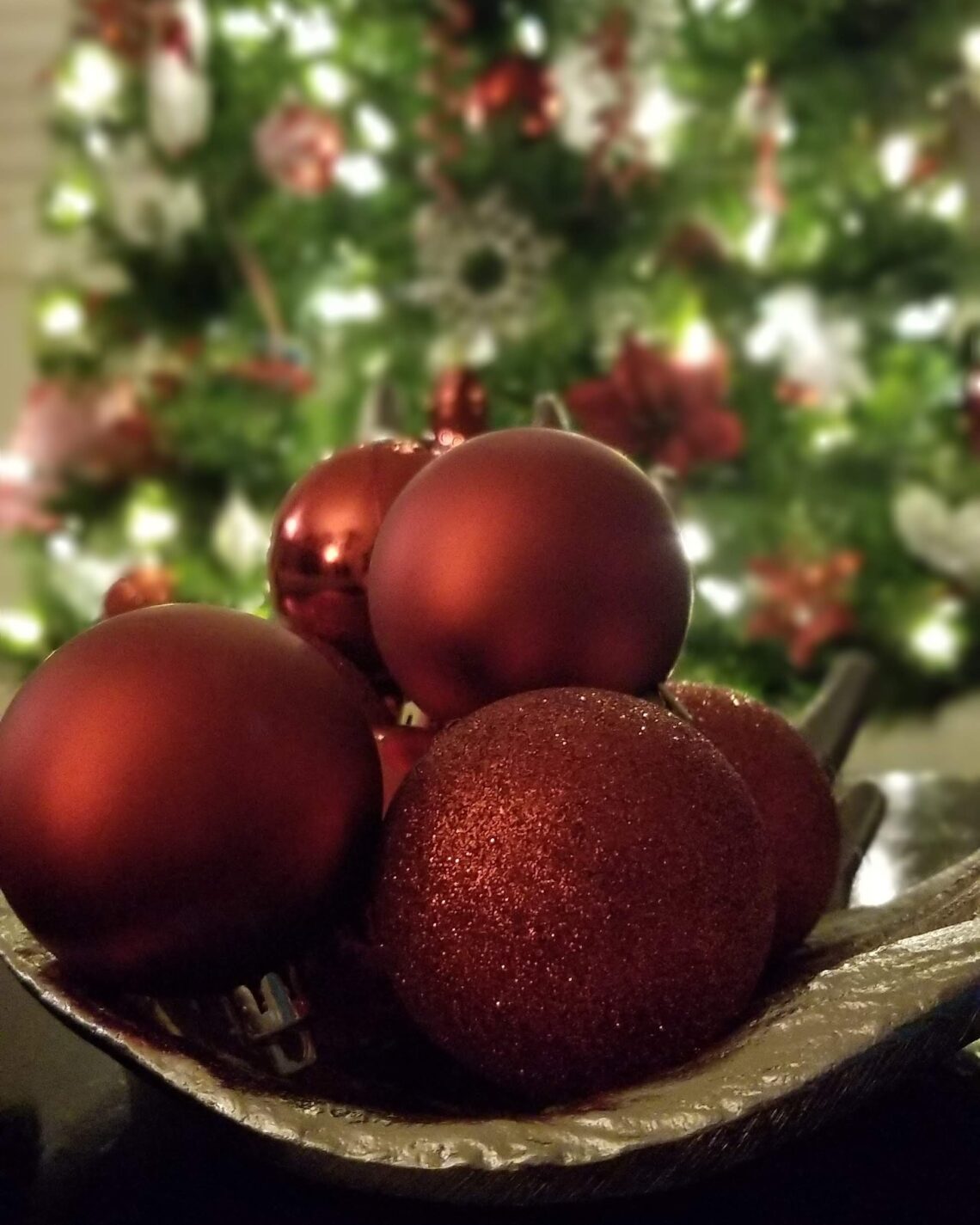 Have Yourself A Merry Little Christmas
I found an unexpected moment of quiet tonight.
As the dusky sky, a yellowed pink hue, gave way to dark blues, I sat on my sofa in the glow of my Christmas tree. (Red and white this year, if you are wondering.) We're all decorated for the holiday. It was a slow process this year. Partially because the task was a bit forced, but also, because the 'hurry up' of the seasons is missing, so I took my time.
I don't miss the rushed feeling. But I'm missing family, more so than I have in the past few years. It's the weight of the pandemic, but I don't need to tell you about that, I'm sure. Trying to make the best of things has taken its toll. Exhaustion comes more easily with each new endeavor, it seems. My bones are as tried as my mind.
Amazon Echo is playing Christmas music, and I found myself humming along mindlessly to the tune, "Have Yourself a Merry Little Christmas." The Judy Garland version.
Tears. Buckets of tears my friend.
This year, the lyrics are more profound, more powerful than they've ever been for me:
Have yourself a merry little Christmas
Let your heart be light
Next year all our troubles
Will be out of sight

Have yourself a merry little Christmas
Make the Yuletide gay
Next year all our troubles
Will be miles away

Once again as in olden days
Happy golden days of yore
Faithful friends who are dear to us
Will be near to us once more

Someday soon we all will be together
If the fates allow
Until then we'll have to muddle through somehow
So have yourself a merry little Christmas now
Do you see what I mean?
The song was written for Judy Garland's 1944 movie, Meet Me in St. Louis, in a scene when Judy is singing to her little sister, a 7-year-old Margaret O'Brien, in an attempt to give her hope at the despair of moving away from their cherished home. You might know this, as it's Hollywood lore at this point, but the lyrics above aren't the original. The originals were more depressing.
The song writer, Hugh Martin was interviewed in 2006 on NPR's Fresh Air and he said:
"The original version was so lugubrious that Judy Garland refused to sing it. She said, 'If I sing that, little Margaret will cry and they'll think I'm a monster.' So I was young then and kind of arrogant, and I said, 'Well, I'm sorry you don't like it, Judy, but that's the way it is, and I don't really want to write a new lyric.' But Tom Drake, who played the boy next door, took me aside and said, 'Hugh, you've got to finish it. It's really a great song potentially, and I think you'll be sorry if you don't do it.' So I went home and I wrote the version that's in the movie."
The melancholy of the song hits me in my heart strings, that's for sure. But I think it's the kind of Christmas song I need this year. It fits my mood and still there is hope. It keeps with my ever faithful motto this year, "This pandemic life, isn't our forever life."
So my dear friends, the hope is this, that as we muddle through these holiday seasons, we will have a merry little Christmas; knowing that next year, our troubles will be miles away.