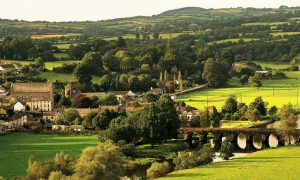 Amid the rolling green hills of Country Cork Ireland, tiny villages dot romantic landscapes every now and then. Mountains rise and fall, and "inlets along corroded coast lines" (I stole that one) give the southwestern coastline of Ireland the look of a land ripe with legends.
It was in one of those little villages, a fair distance from the coast line, but within the confines of County Cork that our Irish ancestors lived. You know, a great grandparent, some great aunties and uncles, random cousins who have become unnamed faces in old black and white photographs. Well, perhaps the names haven't survived, but some of the folk-lore has. And what better day to dust off the stories handed down from generation to generation and breathe new life into them once more than St. Patrick's day.
My dad has been telling me this story as long as I can remember. St. Paddy's rolls around and at some point, he reiterates the tale handed down to him by his grandmother and a great-aunt.
The story goes like this…