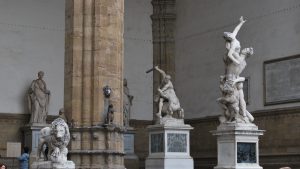 I have a few favorite places in the world. I'm sure there are more, but I haven't been everywhere yet, now have I?
I wanted to share with you one of the best.
I found it when I was visiting my sister the first time in 2006. She was a starving college student, I was a starving writer. There was a lot of time and not a lot of money. While she was in school I would wander the streets of Florence day after day, losing myself in the renaissance. I even had a book I'd borrowed from the library with a collection of Renaissance writings. Damn the fine, I took it with me because the whole year seemed to be my personal Renaissance as it was.
I took my notebooks and the renaissance book and walked over cobblestones and stopped for a cappuccino, staying in bars as long as I could to write a bit. Which then, was not a very heard of thing. The Italian bar is for a quick stop, so some American girl sitting for an hour starts to make people itchy.
Then, one day, I found this spot.
In the Piazza Signoria.
Inside the sculpture garden.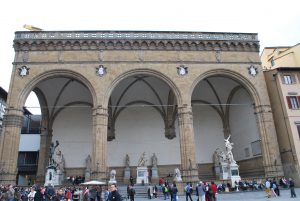 Right here on the top step.
With this view once I sat down.
I've been back to visit my favorite writing spot several times now. This trip was no different. I found an hour of time to sit and pull out my notebook and write about the city that continues to capture my imagination every time I visit.