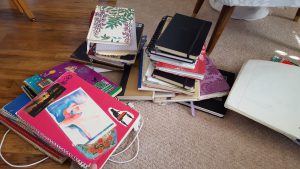 I have spent the last week down the rabbit hole of my youth. It is interesting to look at one's past from an outside perspective, maybe not quite outside, but perhaps from a different angle, with the time that has past, with older eyes. The emotion is still there, but the understanding that was never there, is present as well making things a bit more bearable  than they were the first time around.
Among the collection of my past I came across this poem.
First here's the poem.
The Invitation
by Oriah Mountain Dreamer
It doesn't interest me what you do for a living. I want to know what you ache for and if you dare to dream of meeting your heart's longing.
It doesn't interest me how old you are. I want to know if you will risk looking like a fool for love, for your dreams, for the adventure of being alive.
It doesn't interest me what planets are squaring with your moon…I want to know if you have touched the center of your own sorrow, if you have been opened by life's betrayals or have become shriveled and closed from fear of further pain.
I want to know if you can sit with pain, mine or your own without moving to hide it or fade it or fix it.
I want to know if you can be with joy, mine or your own, if you can dance with the wilderness and let the ecstasy fill you to the tips of your fingers and toes without cautioning us to be careful, to be realistic, to remember the limitations of being human.
It doesn't interest me if the story you're telling me is true. I want to know if you can disappoint another to be true to yourself. If you can bear the accusations of betrayal and not betray your own soul. If you can be faithless and therefore trustworthy.
I want to know if you can see Beauty even when it is not pretty every day. And if you can source your own life from its presence.
I want to know if you can live with failure, yours and mine, and still stand on the edge of the lake and shout to the silver of the full moon "Yes!"
It doesn't interest me to know where you live or how much money you have. I want to know if you can get up after a night of grief and despair, weary and bruised to the bone, and do what needs to be done to feed the children.
It doesn't interest me who you know or how you came to be here. I want to know if you will stand in the center of the fire with me and not shrink back.
It doesn't interest me where or what or with whom you have studied. I want to know what sustains you from the inside when all else falls away.
I want to know if you can be alone with yourself, and if you truly like the company you keep in empty moments.
*
So, I think we can all agree that the poem is powerful in and of itself. The poem has always been in the back of my mind, maybe a little hazy, but it's nice to be reminded of it. I think if I had a mission statement for my life, this poem would be what I strive for in myself and what I hope to strive for in my relationships with others. I hope.
Oriah Mountain Dreamer is a very interesting woman. Her bio reads simply that she is a prose-poetry writer who has written several best-selling novels about personal spirituality.
That alone sets up a very preconceived notion we have of people who write about such things. And the skepticism also mingles with the surface fact that she seems to have given herself a Native American name.
However, I've delved into her history and her other writings in the past few days. Doing the kind of research a writer does in order to continue my quest of knowing a little bit about a lot of things.
What's in a name, surely in this case, everything. When she was 30 years old, she was suffering from Chronic Fatigue Syndrome, and she had a dream where several old women told her to change her name to Oriah in order to be healed. She did so. But she didn't just wake up and change it, there was struggle there, she realized she was doing something that no one was really going to understand. Then, to further her healing she went to see a shamanic teacher who gave her the medicine name "Mountain Dreamer." She did not take that name lightly either. But what she did do was open herself up to the names and honored the ceremony and place these names came from.
I was thinking about the name and the dreams and the ceremony. You know, we all do this in some respect. Maybe with not such grandeur, and perhaps it sneaks up on us. But as we grow, surely we have more names now than those we were born with.
We're all named at birth, but as we develop relationships with others, don't they in turn name us? So many examples come to mind. In high School, my sister, being the youngest of the Sharps became Shrimpie. My friend has a daughter named Lillian, I call her Lilly Ann (with a southern twang), not to undermine my friend, but when I looked at those little cheeks and that smile the first time, I just felt this urge to drawl our her name lovingly. My own kid has several nicknames depending on which grandparent is present.
And in the end, we are all of our names. They are all elements of our true selves and perhaps they are not as dramatic as being named Mountain Dreamer, but they are no less weighty or important to those who know us, named us, and who we've named in turn.
I digress.
Cool poem huh?