To Write Someting Beautiful…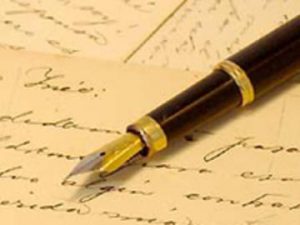 The urge to write something beautiful claws just beneath my skin. I want to shout prose from rooftops, bury it in the dirt and watch it curl lovely branches into the sky, in homage to poetry and writing.
But my soul is rusted and my spirits are dusty. As if it were a worn out country song written in the middle of a desperate lonely night.

I've been reading a lot of poetry lately, not on purpose. Because it keeps sneaking charming lines into my life. I was quoting T. S. Eliot for the hundredth time, "I have measured out my life with coffee spoons." In making sure it was his quote, I finally read the poem which that line appears, The Love Song of J. Alfred Prufrock. A lovely poem that brought about an introspection that seems to go hand in hand with fall mornings. I don't admit to understanding the whole of it, for that I'll need to give the poem more time without a 4-year-old reading over my shoulder and insisting that fruit snacks were the true venture of the morning.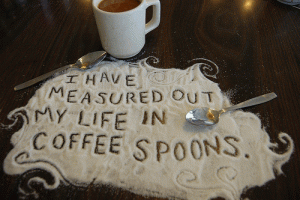 I have never professed to being a poet. Sure I have tacky lines that I've written in attempts to loosen prose from my mind, weird self-serving poems written during writing groups, but none of them are anything special. I don't have the soul of a poet, and I admire those who do. I have a list of favorite poems that have led me to poets and their work or poets I've heard speak that led me to their poems. I've spent the better part of several work weeks listening to a colleague and young poet as he vented his heated opinion that Poet Laureate of the United States, Billy Collins, was crap. In order to have my own opinion, I read a few poems and became enthralled with this 'everyman's' poet.
Why poetry though?
Why is it important? I don't read it myself but a few lines a year, and still, there are endowments, a National Poetry Month, wonderful support for the poet.
As a writer, I think understanding poetry, listening to poetry, reading poetry, even if it is a few times a year, shows the importance of creativity.
There is hope in the art of poetry. The rules that run beneath the written word don't apply to poetry, and that is where self-expression came come alive. I think we catch glimpses of ourselves in poetry. The truth in our hearts, the fears in our souls.
I've found my courage in poetry, Phenomenal Woman resounding against my bones.
I've found my family around the dinner table in poetry, Perhaps the World Ends Here by Joy Harjo.
I've found a road to journey upon, thank you Robert Frost and The Road Not Taken.
I've found delight in sex in I Wrote a Good Omelet by Nikki Giovanni.
I laughed, entertained by Billy Collins reading his poem To My Favorite 17-year-old High School Girl.
I died a little inside, sitting rapt in the darkness of a movie theater, sardined between my parents while poetry clawed at my heart and John Keating spoke of the Dead Poets Society.
Where a book takes a while to read and digest, a poem is a morsel that can become a whole meal if we let it. Poetry spans the world over and reenacts the human experience ten-fold. Whether funny, quick, introspective, poetry helps convey all of it.
"We don't read and write poetry because it's cute. We read and write poetry because we are members of the human race. And the human race is filled with passion. And medicine, law, business, engineering, these are noble pursuits and necessary to sustain life. But poetry, beauty, romance, love, these are what we stay alive for. To quote from Whitman, "O me! O life!… of the questions of these recurring; of the endless trains of the faithless… of cities filled with the foolish; what good amid these, O me, O life?" Answer. That you are here – that life exists, and identity; that the powerful play goes on and you may contribute a verse. That the powerful play *goes on* and you may contribute a verse. What will your verse be?" – John Keating, Dead Poets Society.
This morning, as the fall weather prompts me to bundle against the coming winter and I sip my coffee thoughtfully, I yearn to write something wonderful. To add my own small voice to the sea of many that have come before me and those that will come after. Or perhaps, this is the kind of morning to read just  a line or two of poetry.