Welcome to Day 3 of Nicole's Virtual Favorite Things Party. Wonder what's going on? Check out the intro blog post here.
I was going to call this segment: "Gadgets and gizmos" because of the alliteration, but there is more to todays list. The following really are the "things" we turned to time and time again this year.
At last years party, Sabrina brought a cookie sheet; a glorious large metal baking sheet and she explained, "this is the workhorse around my house. My favorite thing." 
So with that in mind, I was looking at the workhorses and services we all turned to this past year that became favorites. That's what today's list is all about. 
Melinda:
My Rad power electric bicycle https://www.radpowerbikes.com/
Jeni:
Costco Instacart delivery- because they deliver WINE! 
Lindsay:
The Marco Polo app and talking to my friends and family through it. https://www.marcopolo.me/ 
Sabrina:
Ugg Jass Leather Slip-on Sneakers.  Love them!  I'm buying them in all the colors they make.  So comfortable!!
Celeste: 
My favorite thing this year is easy, its my camera my girls gave me for Mother's Day. You see, taking pictures gives me such great joy. That's what  has been keeping me together in this upside world we are living right now!
Rebecca:
-My sauna! And cold showers –  if I can stay in the heat and breathe through that cold and calm and center myself- I can do pretty much fucking anything!
-My my Instant Pot. Did I mention it saved my butt on many occasions?
Katie:
We started listening to music at every meal. Our Bluetooth speaker was definitely one of my favorite things this year.
Brenda:
Last year I decided I was going to go to the next Favorite Things party. I planned on one of the items I was going to bring then. I would bring this peeler as one of my "things". I don't think anyone should have any other kind of peeler. These are the best.
-My Giorgio perfume. I don't leave the house without a spritz. I even have a travel size in my purse.
-I've had a food saver for years, but this year, during the early days of quarantine, it was my go to gadget. I used it more than ever before. 
-Our air fryer was a favorite thing this year. Its perfect for making dinner for two, but our favorite thing to make are French Fries, they turn out so good in the air fryer. 
Karen:
The biggest thing that has helped me the most is my electric bike that I bought in March.  I had pretty much not ridden a bike for the last few years even though I owned one.  My RAD electric bike got me back outside and tooling around Boise in a fun and enjoyable way.  I had forgotten what it was like to follow the greenbelt along the river. 
Ariane: 
-I bought a tablet early on so I could have eBooks from the library to read instantly. I've read a lot this year. 
-Stacking metal bowls with lids because we continued to cook huge meals and then had left overs. The bowls have taken over our fridge. But I liked the different sizes, and silicone bottom with matching colored lid.
Gina:
Postmates restaurant delivery. Postmates has become a family member at this point!
Valerie: 
Though I have a wonderful, supportive family, whom I love unconditionally, I have my ballet class. That one thing, that one class that I go to six times a week, reminds me that life is beautiful and it makes me very happy. 
Wendy:
Buying fresh flowers and having them in the house is an absolute HAPPY mood lifter! It's OK to surround ourselves with beautiful things! I love daises and sunflowers! they always cheer me up!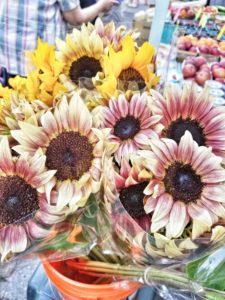 Sophie:
The Calm app!
Nicole:
-I was introduced to this foot massager by a friend. I have missed having pedicures, and I still haven't been back to a nail saloon since the pandemic began. If you like your feet massaged, this is the best gift you can get yourself! I can not say enough good things about this foot massager. It has heat, shiatsu and deep kneading!
-My porcelain Dutch Oven. I used this at least once a week when cooking all the comfort foods!
-My yoga mat is definitely been my favorite thing this year. After three years I have developed a daily practice I love. Which brings me to my favorite app/website: Yoga International.
Amy L.:
Do we add toilet paper to this list since it was so damn hard to get for months? And Clorox wipes? Lol 
What was the workhorse gadget or service you used the most this year?