I've been thinking about the open road. You see, it's spring in my little corner of the world. The snow is melting and in another life I would be getting ready to take off. Trying to figure out how to mooch a ride off a friend, or where the cheapest plane ticket could get me, or what sofa of what friend would welcome me for a time before I outstayed my welcome.
The itch to go and see and do crawls under my skin this time of year. And while I could technically just go, there is more to it now. The whole adulting and mothering side of my life trumps the gypsy right now.
So I plan a few little trips to take the edge off and I think about the road.
I've traveled this country from coast to coast.  Most of the times I did it on a shoe string budget, by sheer luck and willpower, and mostly sitting in the passenger seat of friends cars.
I've watched the sun set from 30,000+ feet in the air, the red yellow glow across a sea of white clouds that bounced and swirled like cotton.  I've seen deserts spread out before my thoughtful eyes and caught glimpses of sleeping giants in the rising and falling ridges.  I've smiled in awe of mad waves as they crashed upon the shore. I've sighed into each winding curve of a manmade coastal road.  I've chased fireflies. I've hiked more miles than I remember and still I can tell you what it felt like when I reached each individual mountain top.
I've slept on everything from a sleeping bag in the mountains, to a broken sofa in the living room of a friend of a friend of a friend.
I've ridden trains built over a hundred years ago.  I've talked to strangers in gas stations across this great land.  I've had no real money for food and was thankful for the 79 cent bean burritos at Taco Bell. I've been awake for days on end my stomach churning acid from the caffeine high. And I've filled journals, notebooks, napkins and the back of receipts, when there was no other paper to be found, with my thoughts and ideas and writings.
I hadn't read Kerouac when I was on my own road, when I was in the tangled mess of my youth and lost in my head thinking half of the time I was doing 'it' wrong. Doing life wrong. The other half of the time I secretly reveled in the life I was living, but I didn't know just how to celebrate it.
I wouldn't do any of it differently though. I found my gypsy spirit in my travels. Found myself in those travels.
Well, actually, if I did one thing differently, I think I would have liked to read Kerouac then. Just so I could have had company in the confusion and joy of my own road.
I never had a plan for my life, in all my years. I was never a planner that way. I never wanted school and a job and a business building and a home and a husband and a car and a kid. I wanted a plane ride, a two lane road, a path in the woods.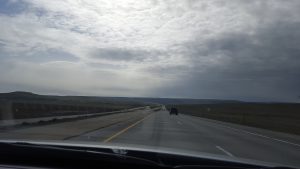 Back then my planning was half-assed at best. An opportunity would fall into my lap and I'd push my fears behind me, take a deep breath and the last of any money I had and just go.
We, all of us, learn lessons on our own road. I learned a lot of mine in my travels.
I've learned that as a people, a race of human beings, we all have fears and dreams. I've learned that there are inherently bad people in this world who will use you and rip your heart out and laugh while they are doing it. learned that there are some beautiful souls in the world who will take your hand, if only for a moment, and lead you into the light.
I learned what I'm made of. I learned what my courage looks like. I learned how I define my own success. I I learned that even though we get 365 sunrises and sunsets every year, each and every one of them continue to amaze and inspire and at times it doesn't seem like there are enough of them.
I'm not done traveling, not by a long shot. I wonder if the yearning will ever go away and I'm perfectly fine if it doesn't. There is still too much I want to see. I might make it everywhere I dream, and I might not. But I've also learned, like a lot of us do, that in the end, the journey is the thing.
"Let there be rock and roll on the dash board radio; let there be occasional hands bongoing on the dashboard. Let that white line in the middle of far west two-lane highways come feeding into the screen…" – Kerouac