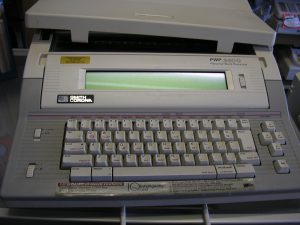 So the thing about writing is that I decided years ago that I kinda had something to say. And when you decide that you kinda have something to say, you kinda want others to read what you've written. And for other's to read what you've written you kinda wanna get published.
So I started half assed, at the fresh age of 24, after my proverbial 'coming out of the writings closet', to try and get published.

I wrote and I read.
I read the Writer's Market. I read the magazines, the books, the success stories. I sent stories to people who I wasn't sure would like what I was writing or not.
Then I got rejected.
And rejected some more.
And then I got a win every now and then.
But then I got rejected. Lame form letters "Dear Author, sorry but no."
So I went back and read some more. I did more research, found more information, and actually talked to an author or two.
And I wrote.
I wrote my little heart out.
And as I was stumbling about a few things happened.
I found my voice, which is strange, because I'd been talking perfectly fine for quite some time, so how I'd lost it in the first place is beyond me. But I did. One day, I found the way in which I would write. Which was nothing like I thought it would be.
You see, in the beginning, when all of this writing dream started, it was the late 80's. I wanted to be a Romance Writer. I saw my life clearly, the way a Sixteen Candles obsessed young girl sees her future. I would be living in a two story house surrounded by a white picket fence.
Matching Acura Integra's would sit in the driveway. A large yellow dog named Lucky would be laying on a sleepy front porch. Some man would be working hard for the love of me, but I could never really imagine him so in the dream I kept him upstairs, I guess taking a shower. I would be standing by the back door with a cup of coffee in my hand, wearing a Laura Ashely dress, looking out over a yard filled with English Garden looking wonderfulness.
I would take a large brimmed hat, my basket and clippers and I would wander through the yard and cut flowers for an arrangement. After making a glorious arrangement, I would go to my studio, something right out of Pride and Prejudice and I would scratch a few magical words on the page before it was time for me to do another interview.
Well, you gotta have a star to reach for at first, right?
So, with dream in hand, I continued writing instead of dreaming.
The next thing I knew, I was in Boise Idaho. Finishing college after 8 years at my 3rd college. I shared a small apartment with an artist and instead of a table in the dining area, we set up our computers and desks. I wrote and found my voice and there were empty diet coke cans everywhere. Dust and book and insecurity lay about as I tried to figure all of this writing shit out. I stared at a sticky note littered space above my desk, filled with my favorite 'you can do this' quotes. There was no man, because I wasn't willing to look up from my notebooks long enough for one. My car was the bus and whatever friend wanted to drive me around, and at that point in my life, I preferred flannel shirts over black t shirts and jeans.
I wrote and then I got rejected, but it was different this time.
"Dear Ms. Sharp, we can't use this piece, but this is in no way a reflection of your talent. Do you have anything else you would like to send us."
Hmmm.
I was doing something in the midst of all that struggle, I was discovering who I was through my words, I discovered how I wrote. Instead of drippy romantic swooning sagas, came these works of first person narrative struggle and dirt and hardship and humor.
I once heard that you find your voice after you write your 5th or 6th book. Well, at the time I was stunted by that idea. Now here I am, 17 books in and a crap load of short stories and it's true, I've found my voice, my style. How I write the books and stay motivated.
Now, I still think I kinda have something to say, so I'm still trying to get it out there. But now, it's a different road I'm on. There is a little more fire, a little more confidence, and a lot more information.
I've written more than that woman in the Laura Ashley dress ever imagined, I import my flowers from the store, I never had a dream car, so the one I have with four doors, ac and a nice stereo is parked in the driveway. There is a dog, but he's a smallish runt. There is a kid I never expected and while my office has a few hues of romance in it, there is a lot more 'down to business' about the space.
One thing hasn't changed though, and it can't. I'm still writing.
No matter what, no matter how you see it, I've learned one thing. If you want to call yourself a writer. You gotta write.