I awoke up on this icy, snowy December morning, tripped to my stove-top espresso maker and made my coffee of choice. Bleary eyed a part of me shuffles through the house to open all the blinds and let the morning in. Then I find myself once again at the stove, finishing the dance that has become second nature when it comes to making myself a morning cappuccino.
Gas fireplace lit, settled finally on the sofa with my laptop, I check email and then the news.
And since that first Tuesday in November, it seems like every time I check the news, the continuation of the shit storm brought on by in the incompetence of the orange monster in the golden tower, knows no bounds.
And I, like many, sit in the comfort of my home and scream "Are you Fucking kidding me?!"
And it's getting old, isn't it?
And Christmas is coming.
And I went out last night and saw an amazing musical put on by a local theater that I didn't even know was here in my little corner of the world (Bad Nicole!).
And I have relatives coming for the Holidays.
And I'm still angry as hell.
And I'm trying to find a balance between living my life and not accepting the bullshit in these uncertain times.
I've been thinking of the commercial Nike put out during the Christmas season in 1999, when Y2K was making a few people rather worried. The commercial is of a normal guy who wakes up on the first day of January, ties his running shoes up, and heads out for that first run of his New Year's resolution. And the world has turned to shit around him, but he made a commitment to himself and he's going to follow through, no matter what.
That's what I'm trying to figure out. How to keep on living a life while fighting, while making sure that this does not become 'normal'. The sun is still going to rise, the moon will wane and wax. Money still needs to be earned to carve out our existences. Kids will have can food drives and Christmas concerts. Friends and neighbors will continue to need support as their lives roll on, too.
But just HOW do I do this? I'm not quite sure. But I think it's going to take a mixture of being mad and amazed. I'm NOT going to let go of my anger, because we need to be vigilant. But my kid is going to continue to discover things like making footprints in a fresh blanket of snow. She's going to dance around and scream "This is just so cool! It just looks so cool!" And the glee that's emitted from her laughter when her puppy jumps and runs circles around her in the snow….I'm going to treasure that moment and hold it close to my heart. Because no one, NO ONE is going to take that joy from me or my kid.
I'm going to laugh and I'm going to have dinner parties and sew Christmas presents. I'm going to write funny, entertaining, crazy stories. But while I'm doing it, I'm going to hold fast to the anger and be vigilant. I won't let go. Because when we let go and just accept what's happening, we, as John Oliver said, normalize what's happening to our country. In his show Last Week Tonight on Sunday November 13th, he said "Keep reminding yourself: This is not normal. Because a Klan-backed, misogynist Internet troll is going to be delivering the next State of the Union address—and that is not normal."
(Who's making the "This is Not normal" t-shirts? I'll take one, I mean…just in case you needed a Christmas present for me.)
When we give into the normalcy of our situation, that's when we lose.
Look, I'm trying to make sense of this. I need to get back to work. I need to get back to writing, cooking dinner for my family, doing the laundry, and teaching my daughter how to read. I need to figure out how to sleep again. And I need to figure out how to take actionable steps to help out. So I write. That's what I have to give for the moment.
I think the thing to do is to be indignant and horrified. Be pissed and angry. But to also sleep and laugh and eat and scream and cry. And watch a movie and read a book and yell in the shower, but, here's the thing that I believe is the important part of all that we're feeling. I think we have to make certain we do something actionable that makes a difference.
Don't allow yourself to get caught up in a tidal wave of despair. Instead, get caught up in taking action.
I think I have a personal new motto for the year: I don't want to hear your complaints. I don't want to hear your whines. I don't want to hear who you blame. I want to hear what actionable thing you are doing to change yourself and the world you live in. And if you are not interested in being part of the solution or the goodness, the least you can do is own that. Then, get the hell out of my way.
And trust me, this is hard for me to do, because what I really want to do is climb in a cave and stay there for the next 4 years.
Now, here's something else. If you want to be actionable, don't do it on social media. You have to summon your inner Elsa and Let It Go. Social Media is an infestation of cancerous 'what if's' and angry finger pointing right now. And none of it is even slightly positive.
And really, take a step back for a moment, is any of it productive?
Those who are bitching about the world and baiting their fellow man on social media, aren't doing any good. If you've read any of it, you know its horrific and it gets under your skin. So what to do? Argue back? Believe everything you read? Rant and complain to your local leaders?
Realistically, bitching in social media isn't being heard by those making the decisions. Sure social media has shown powerful as a tool to call each other together. Most of the protests lately have been started on social media. And sure, it's a decent tool to help raise social awareness quickly.
But several sources on line talk about how facebook, twitter and other "internet petitions (they're largely useless and ineffective at getting real issues addressed)."
According to Emily Ellsworth of Salt Lake City, Utah who spent several years working as a liaison between constituents and their representatives, she said "tweeting or writing on Facebook is largely ineffective."
The best way, just in case you are wondering, is to call you local representatives. Letters are better, but according to Ellsworth, "the most effective thing is to actually call them on the phone. At their district (state) office. They have to talk to you there."
Want to know who you local representative is and how to contact them? Click here.
Do you feel like there isn't any light lately? Yeah, I get that. I truly do. And strangely, I've been asking myself if I should be looking for light. (THAT is a more disturbing thought than anything of yet. I'm gonna have to think about that one.)
Still, there is light.
According to The Nation, "First, we should not give in to despair. Trump won the White House, but not the country—not even a majority. He ran a hateful campaign, but voters are better than that. Exit polls showed that 70 percent support a path to citizenship for undocumented immigrants, and 54 percent oppose building a wall. Seventy percent don't approve of Trump's treatment of women. Republican governors are learning not to challenge equal rights for the LGBTQ community. America is still becoming a more diverse, more tolerant, and more socially liberal nation."
OH! Excuse me for a minute while I go swim around in that thought and let my fingers get all pruney.
Newsweek said, "Trump has no ideology. Trump has flip-flopped on the issues so much, he makes famous flip-flopper John Kerry look like a rock of principle. Whether on abortion or Iraq, you can find a clip of Trump saying one thing—and its exact opposite. This lack of moral center is maybe troubling, but it's also oddly encouraging."
Jordan Peele cracked me up when I read this: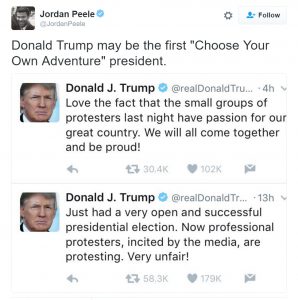 One truth is glaringly obvious. The Orange Beast in the golden tower does NOT know what he got himself into. He is playing with the big boys now and they don't take any crap and really, could give a shit about him. Did you see the picture of him at the White House sitting next to President Obama? He looks like an overwhelmed, spoiled little boy who cried wolf and everyone believed him and now he has to produce a wolf and he has a really big problem because, not only did he lie, but his big secret is that he has no idea what a wolf even looks like.
Esther S. Bushell in a letter to the Editor in The New York Times, said "I was an English teacher for 40 years. Donald Trump, in answering questions about global warming, white nationalism, waterboarding and press freedoms, sounds exactly like my students who hadn't read the assignment and had to obfuscate in their answers. Everyone in the classroom knew who hadn't done his homework and didn't understand the material."
But, Nicole, you aren't really politically savvy yourself, this is just fucking scary that the leader of the free world is about to wing it. And have you seen the list of people he's going to let into the white house to help pull his strings? It's fucking scary.
Yes, yes it is fucking scary.
Take comfort in little things while you're trying to screw your head on straight.
Newsweek ran an article called "Why We Will Survive President Trump." Here's one of the reasons. "Trump's power is limited. He can thunder against Black Lives Matter protesters, but Trump will have severely limited (if any) power over the thousands of America's municipal law enforcement departments, some of which have shown an inclination to reform. He may appoint as many as three Supreme Court justices—yet as of this summer, Barack Obama had appointed 329 judges to federal courts. And while he will have a great deal of influence over who leads federal agencies, he will find that those agencies—for example, the Civil Rights Division of the Department of Justice—answer to a higher authority than the presidency: the law."
Still, we can't just hide and hope things won't be too bad.
You and I have work to do.
Albert Einstein said "The world will not be destroyed by those who do evil, but by those who watch them without doing anything."
So where to begin?
First. Don't believe everything you read. Even me. Double check your sources like you're back in grade school. Even though it takes more work, even though it takes a bit more energy and effort.
Second. Donate and volunteer. I just went to the open house of the ACLU here in Boise. It was so heart warming. Wall to wall people. So many people willing to give of their time to help fight. There were several tables set up with volunteer opportunities and one of the opportunities was writing letters. Dear friends, guess what I excel at?  (I didn't even know this was a thing I could help do?!)
You excel at something too and can make a difference. Volunteer if you can. If you can't, donate your coffee money. Pick an organization that helps those whose rights are in danger. One that you can support.
Need some ideas?
ACLU – American Civil Liberties Union. A non-partisan group committed to defending and preserving the individual rights and liberties guaranteed to every person in this country by the Constitution of the United States.
Planned Parenthood –  Planned Parenthood is a trusted health care provider, an informed educator, a passionate advocate, and a global partner helping similar organization around the world.
Center for Reproductive Rights – For more than 20 years, the Center for Reproductive Rights has used the law to advance reproductive freedom as a fundamental human right that all governments are legally obligated to protect, respect, and fulfill.
National Organization for Women – At the grassroots arm of the women's movement, the National Organization for Women is dedicated to its multi-issue and multi-strategy approach to women's rights, and is the largest organization of feminist grassroots activists in the United States. NOW has hundreds of chapters and hundreds of thousands of members and activists in all 50 states and the District of Columbia. Since our founding in 1966, NOW's purpose is to take action through intersectional grassroots activism to promote feminist ideals, lead social change, eliminate discrimination, and achieve and protect the equal rights of all women and girls in all aspect so social, and economic live. (You know what's cool about this organization? Their website was down for a few days because it was so inundated with donations!!!)
National Resources Defense Counsel – NRDC works to safeguard the earth—its people, its plants and animals, and the natural systems on which all life depends.
We combine the power of more than two million members and online activists with the expertise of some 500 scientists, lawyers, and policy advocates across the globe to ensure the rights of all people to the air, the water, and the wild.
(If you can't donate, the National Resources Defense Counsel website has actionable things you can do in your own home to help!!!)
International Refugee Assistance Project – The International Refugee Assistance Project (IRAP) organizes law students and lawyers to develop and enforce a set of legal and human rights for refugees and displaced persons. Mobilizing direct legal aid and systemic policy advocacy, IRAP serves the world's most persecuted individuals and empowers the next generation of human rights leaders.
NAACP Legal Defense Fund – The NAACP Legal Defense and Educational Fund, Inc. is America's premier legal organization fighting for racial justice. Through litigation, advocacy, and public education, LDF seeks structural changes to expand democracy, eliminate disparities, and achieve racial justice in a society that fulfills the promise of equality for all Americans. LDF also defends the gains and protections won over the past 75 years of civil rights struggle and works to improve the quality and diversity of judicial and executive appointments.
The Trevor Project –  Founded in 1998 by the creators of the Academy Award®-winning short film TREVOR, The Trevor Project is the leading national organization providing crisis intervention and suicide prevention services to lesbian, gay, bisexual, transgender and questioning (LGBTQ) young people ages 13-24. (The Trevor project can connect you with local groups and ways to support them by volunteering your time and talents.)
Mexican American Legal Defense and Education Fund – Founded in 1968, MALDEF is the nation's leading Latino legal civil rights organization. Often described as the "law firm of the Latino community", MALDEF promotes social change through advocacy, communications, community education, and litigation in the areas of education, employment, immigrant rights, and political access.
Boys and Girls Clubs of America – To enable all young people, especially those who need us most, to reach their full potential as productive, caring, responsible citizens.
Human Rights Campaign – The Human Rights Campaign represents a force of more than 1.5 million members and supporters nationwide. As the largest national lesbian, gay, bisexual, transgender and queer civil rights organization, HRC envisions a world where LGBTQ people are ensured of their basic equal rights, and can be open, honest and safe at home, at work and in the community.
ProPublica – To expose abuses of power and betrayals of the public trust by government, business, and other institutions, using the moral force of investigative journalism to spur reform through the sustained spotlighting of wrongdoing.
So, I'm choosing action, the art of doing something to support others. So that I don't fall down in a mess of maddening despair. The calls to action are all around you. The article How We Can Fight Trump is gloriously littered with citizen movements (and their links) that need support.
So scream and be indignat. Cry and laugh. Love and celebrate the holidays. And while you're finding your way in the days to come so you can sleep at night, donate a buck, donate your time, but work toward making changes in your own home and community that help the greater good.
Do no harm, but take no shit my friends.