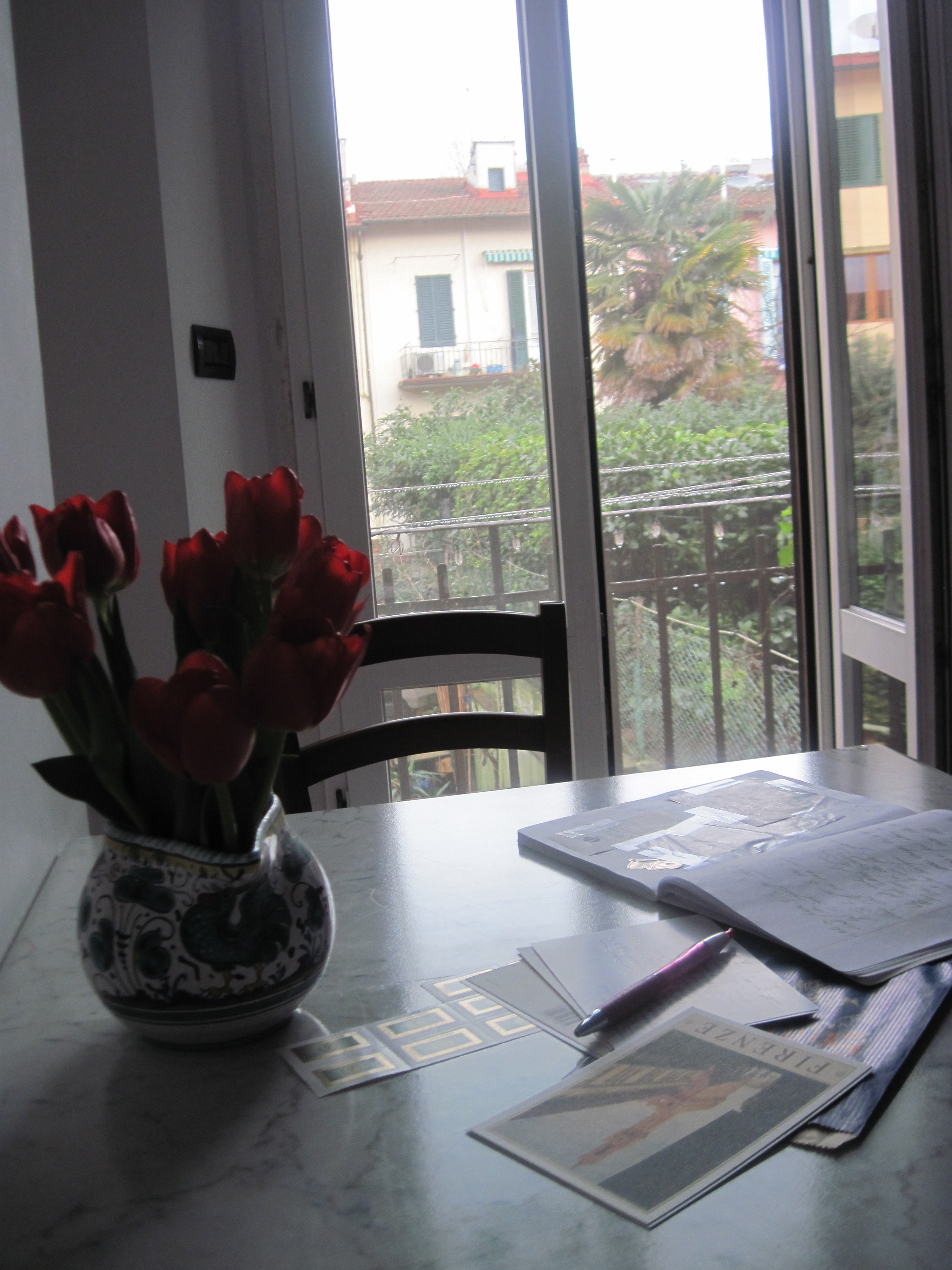 Ahhhhh.
I have officially moved outside for the season.
I have loved the backyard patio for as long as I can remember.
For that matter, I've loved said patios best in the early morning hours.
I've sat and contemplated life all over the world on various patios, and none of them have disappointed.  The only problem I've ever come across with my patio musings is that the morning is over all too soon.
That isn't the case right now however.
I was not given much time to properly introduce myself to my new patio last year, we moved into this house and suddenly it was a whirlwind of painting and cleaning and unpacking and then we had the first snowfall and that was it for patio sitting.
Now, the early part of 6a.m., this is my favorite time of the day. Coffee by my elbow, the world is just waking up and I yearn to wax poetically about it all. The birds are singing their chorus. Squirrels scratching up tress as they chase each other, and newly sprouted leaves create a waterfall sound in the slight breeze. My potted flowers that line the patio preen in delight, readying themselves for the attention of the coming sunshine. The only other company I have this early is the call of the birds and the occasional sprinklers of neighbors somewhere nearby.
Time stands still on mornings like this, as if for just one moment, while I sit and contemplate the thoughts of the day, the world takes a deep breath and it all stops. Perfectly still. Time folds in on itself and touches the past the present to the future and then the breath is let out and it all continues once again.
Several years ago, my folks arranged for the vacation of a lifetime. We took my grandmother back to the holy land, well, back to Italy where her people were from. We rented a car, packed my Italian New York grandmother around Italy during the hottest summer they had seen in 500 years and after several days she sat in the Duomo in Florence, tourist fan waving restlessly in her hand, gesturing around she said, "Look at this, look at what my people have done." A sense of pride washed over her and she continued to wave through the rest of Italy in wonder, taking credit for the wonders of the Italy that her people helped create. And to be honest, I think we all let ourselves be awash in that creation as well.
That trip though, I was sick as a dog, got a cold on day one, female problems on day two, welt sized mosquito bites on day three and on the fourth day, I awoke with an eye irritation. At that rate, I declared, by the time we made it to Rome, I would have a lisp, a hump on my back and be dragging my leg behind me declaring, 'thiz iz wontherful' as I drooled uncontrollably.
Still, one of my favorite mornings was the one I had on a patio in Rome on that trip. Sleep deprived from my constant cough and my grandmother's overwhelmingly comic snoring, I woke in Rome at 6am and headed to the breakfast area of the hotel we were staying.
It was a patio with no spectacular view, but I was the only one awake and the staff, whether still tired or bored, were very polite to me. They brought me my coffee, hard rolls and cheese and left me to my own devices. The trash trucks could be heard making their way down the street, the backwards beep beep sound of their trucks indicating their position. The smell of the waitresses' overindulgence in perfume mixed beautifully with the BO of the bellboy who brought me the morning paper, just in case I wanted it. I flipped through the Italian I did not understand and smiled over the pictures of daily life around this country. The birds began their early morning correspondence, and the sun was already on its assent into the sky.
I pulled out my notebook that had seen very little action that trip and I dripped my wonder of the morning onto the page. Then I began to write a story, a simple little idea that had been whirling around in my head for several weeks.
The magic of Rome swept me up then. In that moment, in that morning, on that patio I was a poet, a lyricist. I was a lowly scrivener adding my wishes and dreams into the ether to bump against the ancient hopes and dreams of those that spent their early morning hours hundreds of years prior etching their dreams into stone, scratching them on parchment. I was a part of something bigger, smaller, complex, lovely.
As I sit on my patio, musing, I think perhaps all my past mornings touch together in that spark of a moment that stands still, and there is a great comfort in that. Or perhaps just a great story somewhere.