If you're keeping score, today is day 8 of Nicole's Virtual Favorite Things party. If you're asking yourself "what is going on?" I explain it all here. 
The next two days posts are going to run into each other, quite nicely if I do say so myself. A lot of us mentioned Nature. It was the one common denominator that we all immersed ourselves in as much as we could this year and found that it helped keep us duct taped together. While talking about our nature walks and campouts, we also shared pretty pictures. 
So pull up your favorite cup and peruse a whole lotta beautiful landscapes. 
We're going to start with Ashelee. When I asked: "What was your favorite thing this past year, the thing that got your through." Well, her answer pretty much sums up todays post.
Ashelee:
Nature. Being in nature has always been a refuge for me, but especially this year. The beauty of nature is a nice distraction. I can so easily get lost in the veins of a leaf or the color of a feather and feel encouraged by the timelessness of mountains and deserts. Even just looking at photos of animals, plants, and landscapes was a huge lift for me because I couldn't get out like I normally do. I also found myself looking at unfamiliar landscapes (and oceanscapes) from around the world. I stumbled on critters that were new and fascinating. This fueled my curiosity and I learned so much new information. When I finally did get out in Nature, after months of sitting in front of a computer doing zoom meetings and dealing with added complication of being a teacher and student in a pandemic, it was freezing. My fingers had lost feeling, I had ripped my pants, I rolled my ankle, and there were ice crystals in my watercolor as I tried to paint a landscape. But I felt Free. Finally free. I would not have changed the frozen fingers, the rip in my pants, the sore leg that came from a few hours on a frozen hill side for a month of warm zoom meetings.
The follow photos are all from the area around Pocatello, Idaho.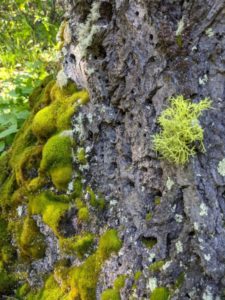 Tammy:
Visiting our national parks in our RV in September; we were out in nature but very secluded in our RV.  So kind of feeling like we were a bit back to normal.
Michele:

Deer in Cascade, Idaho
Backyard Blackberries
Jeni:
Camping – a necessity for the soul.
Ariane:
#pathstaken.
I noticed over the years, that more than pics of kids, I had pictures of different trails I have taken. When the pandemic hit, I started posting photos of the trails my family and I walked. It was a way I could share my journeys with my friends and bring some calm and peace to people, and hopefully inspire them to get out and find something beautiful to focus on.
The pictures weren't doctored or filtered. Just nature the way I saw it so other could enjoy it.
(*Note: Ariane lives in Oregon.)
Amy L:
This year, I loved the sound of the river over the rocks and how peaceful it was. I also loved walking the beach and listening to the ocean.
Gina: After doing research to make sure we were doing the right thing, we went to Big Bear, California to social distance there, but be in nature. I loved it so much, the day before school started, I went back by myself and took a "mom day." Just me, a kayak, and the clean, crisp air.
-I also made time once a week to walk on the beach.
Amy B.:
My camera was one of my favorite things this past year. It captured so many beautiful scenes and reminded me that there is beauty everywhere even among the nasty covid.
Brenda:
-Before lockdown we took one day trip in Italy to Fiesole, to see the Roman and Etruscan ruins. It was spring and a lovely day.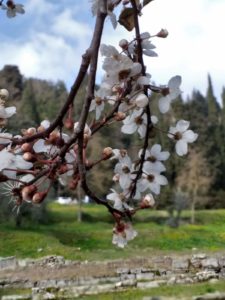 -When we got back to the US, we were desperate to see our ocean. You see, in a normal year, we can be found every Thursday morning at the beach with our coffee and newspaper and a good book. We take a walk along the shore and then have our breakfast. I always felt as if I could release all my worries and they would float out on the waves. If ever there was a time I needed to allow my cares to be taken away from me, it was this year. The ocean grounds me.
Celeste:
I walk in Stone Mountain Park (Georgia) almost every day. Nature grounds me. I always have my camera, taking pictures gives me such great joy. This fall, an opportunity fell in my lap to go out west, which I took . With my camera I saw such beautiful things took fabulous pictures.* 
(*Celeste wrote more, but it goes with another post!)
Rebecca:
Here are a few of my favorite pictures from this past year. (Rebecca lives in Idaho.)
Sophie:
My favorite place is so peaceful & beautiful.
(Sophie lives in Washington.)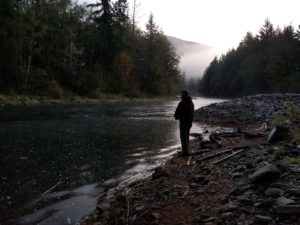 Nicole:
Mountains do call to me. This year, I continued to turn to nature, like many of us, to keep me grounded. I found my self, my soul, on each and every trail I've ever walked. The exertion of breath that came as I headed up a dirt path became a sort of confession. Breathing deeply the smell of pine that mingled with dust and fresh air was my absolution. Smoky fires made from fallen pine boughs was my incense. The sound of the wind blowing the tops of the trees, the rush of a stream, the morning chirping of birds, that was my choir.
Katie: 
Fine, fine fine. I'll add a few pretty pictures of stupid Italy my sister sent me. (I love her and Italy…but you get it.)