I recently went to Maui for seven days and seven nights.
I didn't know if I would like Hawaii. With the history degree that I have, I adore immersing myself in the lands of the ancients. The land where history is from. And for me, that land is Europe. (Super side note: if you've ever seen Eddie Izzard, he says it best. "I grew up in Europe. Where the history comes from.")
I studied antiquities in college.  You know, Romans and Greeks. So it's always been that I long for Europe in a way that has seeped into the fabric of my soul and driven me on my gypsy adventures.
So tropical Hawaii was never on my radar. My grandparents went every year, they brought us back items made out of shells and coconuts. We mindlessly devoured chocolate covered macadamia nuts while they showed us pictures of palm trees and beaches and green mountains with names we couldn't understand or repeat.
And I never really cared.
I have a lot of friends who have time shares, whose parents have time shares, whose friend of a friend has time shares and they always sent me postcards from the islands.

And it never permeated my mind, never became a place I thought "good lord I NEED to get there now!"
Here's what I know about the history of Hawaii:
It is the 50th state.
It is a chain of islands created by volcanoes.
That's it. That's all.
Still, it was on the agenda. It was the right time, the right price, the right people to travel with and the up-sale: my kid was going to stay with my parents and the dog was going to stay with my in-laws; which afforded me, us, the ability to have an honest to goodness vacation. A Honeymoon if you will. Without the daily drudgery of responsibility.
Holy Shit!!!
Okay, let's go Maui!
Here's a little something about me, my personality.
When exposed to a new adventure, I don't sleep a lot. I simply can't sleep. The moment my plane lands, wherever adventure may find me, I prop my eyes wide open with toothpicks like Odysseus. My mind clears and my head bobbles from side to side to side, looking, engaging, in-taking all the newness around me.
So it was par for the course, when we arrived in Maui, I was alert in a way that had me waking naturally every day of my vacation at 4:45am.
(Seriously? But you were on vacation, you might be thinking. For the first time in five years sleeping in was so worth it. You didn't have anywhere to go, nowhere to be. I know, right? But that's the joys of being me, I couldn't sleep, I might miss something.)
We stayed in a resort and if it makes sense to you, we were on Ka'anapali beach.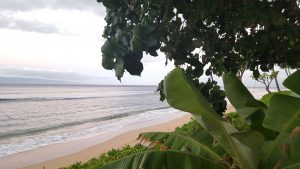 At 5 am, choices are few as to what to do. There was the option to lay in bed and try to go back to sleep. I could go for a walk, run, or go get coffee.
There was a Starbucks on the property, and they were open every morning at 5am. So yes, I threw on my tank top, shorts and flip-flops. I grabbed my bag that held my notebooks and pens and wallet, and I headed to join the pre-dawn crowd.
There were three of us pre-dawners. One woman who had a seven month old baby girl who was still on Kansas time. There was the man who sat with his laptop and his headset, talking to New York, getting a few hours of work in before his day started; his name was Paul. "Hey Loretta, this is Paul." "Jim! Paul here." "Grace, it's Paul."

There was also the lovely staff at Starbucks who, for some reason, learned my name after the second day and my drink order. They smiled hello to me when I entered and had my drink already in the process.  I love being a regular, and seriously, I was delighted, but still felt like telling the young gal at the register there was no need to remember my name. I was just one in a long long line of tourists that would come and go from this paradise.
But it was appreciated.
After I had my vanilla latte, I would find a spot somewhere on the property with a little light so that I could write. On the way, I always found a fallen plumeria flower and tucked it happily behind my ear and then I would bask in the 74 degree darkness and all the excitement and newness would itch at my fingers as I attempted to capture it all on paper.
A few friends have inquired if I wrote while I was on vacation, and indeed I did. But it was introspective, observational travel bs. There were no story lines found in the shade of a palm tree; rather, the writing I did do was mostly an exercise in description.
So for the curious, and because it's nice to relive the moments I spent in the warm weather, (the high in Boise today is 30) here's the kind of things this writer mused while on vacation.
The island of Maui is set adrift in the Pacific Ocean, slowing bobbing up and down with the splash of the waves against its shore. The waves push the island at alternate times from each and every angle keeping it strangely, in place.
We land on a Friday at noon. An initial reaction of 'oh' is all that is present. I have no expectations, no prior trips with which to compare this moment to. In the onslaught of newness, there was only a continual, overwhelmed and delighted 'oh' reaction to everything.
Buildings in this place are made of foundations and support beams, the idea of walls and doors seem to be a formality. We disembark from the plane and after the small enclosed space, the sliding doors open and the smell of freshness, of wind, of salt of humid heat is a strange hug that steals my senses for a few moments.
Rental car obtained, we head to our home away from home for the next week. As we drive, I can't stop drinking in the sumptuous green mountains. Jagged, dramatic peaks thrust into the sky in defiance, in prayer, in god like grandeur; I'm not certain. Clouds hug the top of the volcanic formed mountains, the fluffy embrace no longer needed by the ancient beasts born of bubbling, spewing hearts. Still, the clouds look at the primeval formations and see the newborn that desires to be swaddled.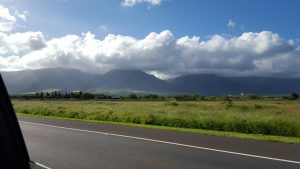 We arrive at our resort. In the corner of a very well maintained courtyard is a local playing an amplified guitar. The music wafts over the moment, a kiss of welcome upon my cheek.  Fresh flavored water is offered, a container so large it requires its own altar. Orange, cucumbers, lemon and lime water sweats in the vessel, making the welcome more inviting still.
We are told to take a look toward the heart of the property, toward the ocean.
Several wide-eyed steps we center ourselves and are greeted by resort living. An intense pool twists and turns, arches and preens glorious glowing blue. Landscaped Palm trees, lush Bougainvillea, small spiky red plants, dark green bushes and an array of tropical plants I can't begin to identify wave in greeting.

A feeling of welcome, disbelief and pleasure tickle their collective way up my spine.
Mornings on my tropical vacation continue to being at 5am. Is it the weather, the lack of worry, the worry that I may miss something that wakes me so early? I'm not completely sure, but I embrace it none the less.
I shuffle downstairs and make my offering to the church of Starbucks. I feel sad at the corruption of such a name brand in a land where they grow their own coffee; and at the same time, the tourist in me, the consumer, the guilty pleasure lover adores the shops presence. Also, it is open and close and I have embraced my resort living this week.
My controversial Christmas cup and I make our way to a prime location in order to write a little, ponder a little, and stare into the black distance a lot.
There is no promise of dawn at 5:30 in the morning, nor at six. The stars still shine a midnight show. The only proof the ocean continues to push and pull the island is the reassuring sound of waves crashing on the shore a hundred feet away.
Joggers phones, watches, music devices glow as they run along the dimly lit boardwalk. Maintenance workers diligently complete their tasks in the dark to create the illusion of paradise.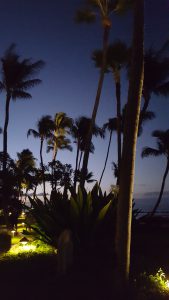 I sit in different locations all throughout the morning, I'm still slightly mainland restless, though I'm opening up to the Aloha effect that blankets me.
Dawn is late, on island time maybe. It is in no rush to put on a show or boast its arrival. It just gives a quiet yawn before allowing the sun her glorious rising.
The land is dense with overgrown foliage and tourists, even though this is claimed to be the off-season. I wonder at the locals, those who founded this island, who called it home so many many years ago. Of missionaries who did damage, of King Kamehameha, of his wives, of the original hula dancers, of what this place was like before tourists.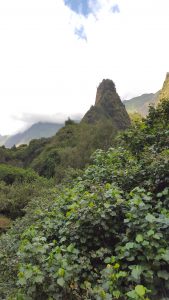 And at the same time I embrace my touristic ways, my camera becomes a wild extension of my memory. I can't seem to get the right angle, the right green tints, the right blue shades. I can't seem to capture the right sunset. But smoke still rises from my camera and my attempts at recording these moments and my pen runs out of ink with my continued lame attempts to interpret the beauty I find myself.
But perhpas it's okay that I can't quite capture it all, who would want to explain away the beauty of a place?