It's Day 5 of Nicole's Virtual Favorite Things Party! For more information, check this out.
"Reading is an act of contemplation, perhaps the only act in which we allow ourselves to merge with the consciousness of another human being. We possess the books we read, animating the waiting stillness of their language, but they possess us also, filling us with thoughts and observations, asking us to make them part of ourselves." – David Ulin
Reading and listening to books and immersing ourselves in beautiful photos of magazine was high on the priority list this past year, and those things we read became some of our Favorites. Get out your 'to read' lists so you can add to them!
Celeste: 
–The Tattooist of Auschwitz by Heather Morris. 
You think there was a theme to what I was reading this year? The Blue Tattoo was an interesting but depressing book. 
-Every night I've been reading the Harry Potter books with my grandkids. I just love those books!
Michele:
-My favorite books this year has been a cookbook. 
Plenty by Yotam Ottolenghi

–Eating Out Loud by Eden Grinshpan
–Untamed by Glennon Doyle
-Listening to books by Maddie Dawson and Kelly Harms was like listening to friends talk. 
Jeni:
-My favorite quarantine book was This Tender Land byWilliam Kent Krueger
Katie:
-"Vivere la casa" home and food magazines. They come out every 2 months and are just wonderful! – Katie
Brenda:
-My favorite author is Lee Child (The Jack Reacher books.) Jack Reacher is a great character, a kick ass, honorable man who can't say no to problems when they arise and someone needs a hero. He travels with an ATM and a toothbrush. These books took me away from what was really going on in the world. I needed the escape more this year than any other. 
-While in quarantine in Italy for 82 days, I only brought one book. So I was forced to read books from my daughters book shelves. They were books I never would have picked up for myself, but I truly enjoyed them. Here's one of the books: An Irish Country Doctor by Patrick Taylor
Ariane:
-For peace of mind, I read Mary Oliver. 
–The Boy, the Mole, the Fox and the Horse by Charlie Mackesy. This book was the best self help book I've ever read. This illustrated book of unlikely characters coming together and making each other understand why they all matter…it was a sweet kids book. It was also beautifully illustrated.
Amy L.: 
-*Note: This isn't a personal plug, Amy really did write it this way. You see, she's been trying to get me to finish all the books I'm working on and write the rest that are in my head so she can read them all by tomorrow. 
"Nicole's books
Nicole's books
Nicole's books…
Nicole's unfinished books!!"
Nicole:
-During the early days of the Pandemic, I pulled out all my old Julie Garwood books. Historical Romances were the best because no one was fighting over toilet paper and I wasn't jealous of people going to coffee shops for dates. Everyone in the books I was reading were just hoping not to get gangrene from a papercut.
-The second book that was timely and got me through the year is Women Who Run with the Wolves: Myths and Stories of the Wild Woman Archetype by Clarissa Pinkola Estés. This is a dense book, I think I've read it three or four pages at a time. Its become a meditative book. Dripping with highlighter ink.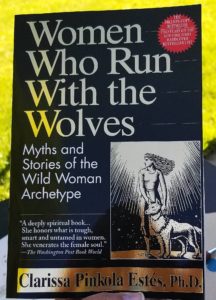 And now a small plug for the one website I spent a lot of time on this year. Thrift Books! Buy cheap used and new books from the comfort of your own reading chair. 
Here is what Thrift Books claims their purpose is:
We believe reading empowers people, offering them empathy to live for a moment in someone else's shoes, offers them education, a critical asset to improving one's life, and offers an occasional escape to fantastic worlds inhabited by interesting characters. Yes, we save millions of books every year from being destroyed, but our mission goes beyond the environment. We save these books and make them accessible to readers for the chance to shape another mind, share another story, and teach a bit of wisdom.