Favorite Miscellaneous Things
Day 11! We're almost done with Nicole's Virtual Favorite Things Party. Late to the party? That's okay, I'll explain everything here.
I'd like to take a moment to remind us what the original question was:
What were two or three (or four or five) of your favorite things this past year? What has gotten you through? Quotes, books, bubble bath brand, movies, authors, foods, kitchen gadgets, recipes…when you look back on the mess of this past year, what were your favorite things that kept you duct taped together? What did you pull out of your hat on more than one occasion to comfort yourself and your friends and family?  
I wasn't sure what I was going to do with all answers. But once I received them, I was able to see a few categories forming. Today's Favorite Things are those that didn't quite fit in the other categories OR they might be repeats because I couldn't recall if I had added them yet OR they are were simply forgotten first time around!
Tammy:
-Reaching out to friends and vice versa mostly via phone, text, or sometimes meeting in a park for lunch.
-Taking it one day at a time.
-Seeing my brother in August and eating out doors.
-Having our Maui dog…lots to hug and he just keeps you busy 🙂
Sabrina:
Music, music, and more music.  But this song has been the go-to, get up and get things done song of 2020.  Beautiful day by U2
Melinda:
-Long phone calls with friends I used to get together with for meals or coffee.
-Woodstove fires since it's gotten cold, snuggling on the couch with Harley (our Corgi girl).
Rebecca:
-Thinking of 10 thinks I'm thankful for every day.
-Staying off social media except 1x per day and avoiding all political conversations.
Amy B:
-I have also found a deeper sense of my religious side. Lots more down time to reflect and to slow down.
-Man, naps are a beautiful thing…
-The most important thing, is that I found that its okay to take time for myself…
Sophie:
My cat pepper, or as I call her, "my service animal."  She hugs me around the neck and knows when to purr when I am snuggling her and need a little love.
Michele:
– My family is still my greatest source of strength. I don't think I could make it through all of this without my husband Tom.
-Our big dog Gracie (85 pounds of happy) is a source of spontaneous joy on a regular basis. 🙂
-I look forward to each and every story and picture y'all post on Facebook!
-We have counted how many Monday's it will be until we think we can retire, and we are down to 212. We look forward to counting them down every Monday.
-I also dream of long trips to far away places.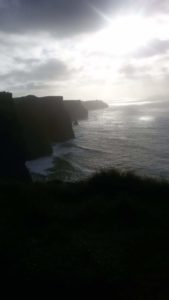 Katie:
Playing piano: my husband had the idea of buying a piano for our girls to be able to take lessons. He and I both come from musical upbringings (he plays the trumpet, I "dink around" on the guitar and piano), so it just made sense. But in this last year, I have been the one to make the most use of our piano. When I play … time just stops. It's the most wonderful feeling in the world. Also, my parents were stuck in Italy with us during the first lock down. One  I got to hear my dad play the piano. You must understand … we grew up with a piano in our house but we stopped hearing our father play when I was about … 5 years old maybe? That's 30+ years of not hearing him play. And then one day, just like that … he started playing and it was magical.
Gina:
-Any movie adaptation of a Jane Austen novel. I can watch them over and over, especially while I'm working. They just center me.
-Self Care Sundays. A few months ago, I started taking an hour for myself to shower, do a facemask treatment, and lounge in my comfy robe while watching a show that is only for me.
Karen:
-Going to more music events outdoors also. Music is such a healing thing for me.  It makes my body move and my emotions flow.  Love to dance and sing!
Photo by Melinda
Ariane:
Stephen Colbert was my rock this entire year. Keep in mind I never actually watched him before this year. When we were in quarantine and he began doing his show from home, I loved his interplay with his wife in the background as his only audience member, it warmed my heart. He provided me with news but never failed to make me laugh. He's the only person I continued to watch after I gave up news.
Daniell:
-Peel off face masks
-Playing card and Monopoly
-Fuzzy warm socks
Note: The top two Monopoly games this year are Elf Monopoly and Mandalorian Monopoly. Both available at Target.
Amy L.:
-Bath and Body Works Sweater Weather candle.
Valerie:
I remember when all this started in March, it was such a shock. And then one day I was looking at my yoga mat strap that Nicole made for me and I missed her – I missed our talks about life, love, yoga, history, politics, food, family, and Italy. Then, we got together again and did yoga together outside. Seeing Nicole again really grounded me and reminded me who I was.
Nicole:
My flowers. My flowers. My flowers. And sitting in my back yard writing. As soon as the weather allows me every year, I move onto my back patio to watch the world pass by. (Note: Yes, these photos are my flowers. I grew them and arranged them.)
So, what was your favorite thing this past year?