My mom ruined holidays for my husband. And my sister's husband. And my Brother's wife.
And she knows it so this isn't news that will come as a shock to her or make you uncomfortable while reading. So, how did my mom do this? Glad you asked.
I'll start with Birthdays. Every birthday, my brother, sister and I would wake up to streamers cascading over the doorway. It was as if walking through the curtain of crate paper was the moment we were baptized a new age. On the breakfast table was a red plate with scrolling writing that read "You are special today".
Said plate was sitting in front of the birthday person's place setting and a donut from Winchell's (our favorite Southern California donut place), was sitting on the plate.
In our lunch box was just a note from mom on our napkin, "Happy Birthday! I love you." Dinner was birthday celebrators choice. Then there was cake, ice cream and a 25 cent bottle of Shasta soda. Soda wasn't something we kept in the house so this was a big deal. Now, if there was an actual party that year for your birthday…make room for my mom. She was Pinterest before Pinterest existed! I personally recall a sleepover with all the girls in my class that involved bringing your barbie doll and planned games ensued around this theme. My 12th birthday party, "Girls Just Wanna Have Fun", we danced and instead of playing pin the tale on the donkey, mom created "Zap The Zit on Zack."
Now, these were just birthdays. Mom decorated for every holiday.
EVERY HOLIDAY!
We even had an intense relationship with the Tooth Fairy. You can read more about that here.
Valentine's Day was no different. Decorations were up. Donuts for everyone in the morning. Mom wrote "I Love you!" on all our napkins and made sure we had a box of conversation hearts in our lunches. Dinner was heart shaped pizza, strawberry Shasta soda, and heart shaped cake presented on the You are Special Today plate.
The tradition of heart shaped pizza is still going strong in our family. Over 40 years now.
Of course I carry on the traditions. I even have my own "You are Special Today" plate. This morning, my table was set for my Valentines and tonight, there will be heart shaped pizza. Not only at my house, but my sister's house and my folks. I need to ask my brother if he's gonna do that.
But the past five years there has been a new addition to the traditions.
My sister sent me a picture of her Valentine Table a few years ago.  I looked at the picture and being a smart ass, but also because my sister lives in Italy and they have different traditions, I saw there was a pineapple on the table.
"Why is there a pineapple on your Valentine table?" I asked.
"Every good Italian has a pineapple on their table for Valentine's day. It's a symbol of love." She replied.
"Really?"
"But it only means you love your family if the pineapple is on it's side." She laughed after that, "It's just on the table, I wanted pineapple. I has nothing to do with Valentine's Day."
The next year, I recalled this conversation. And added a pineapple (on it's side) to my Valentine table and sent the picture to my sister.
Here we are a few years later with a new tradition, my sister and I, the Pineapple of Familial Love.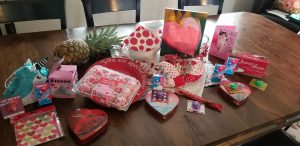 But it only counts if it's on it's side.
What traditions do you have that are new or carried over from your childhood?