Charles Dickens' A Christmas Carol: A ghostly history
Here is more information than you ever asked to know about this little book and the man who wrote it.
My family is a Dickens Christmas Carol family to the core. It all started when my youngest sister was learning to read. My father, an English teacher and self declared Dickens scholar, brought a copy of A Christmas Carol home soon after Thanksgiving one year. He declared that each night before Christmas, after homework was done, we were all going to gather together and take turns reading the story aloud.
At first, there was much groaning; we knew the story, we had seen it on TV countless times.  Why read it, why did we have to read it aloud, why were we being punished and our precious hour of TV time being taken away?!?!
Then it began, quite simply, quite dramatically:  "Marley was dead: to begin with."
With a flare for reading aloud and dramatics, my father began a life long family tradition we would repeat every Christmas season with that first sentence.
Each year, it seems that there is a new addition to Dickens' masterpiece, a new remake, a new spin on the Classic tale. The basic plot has been used as an outline for everything from It's A Wonderful Life to Ghosts of Girlfriends Past.
Such a small novella published in 1843 has transformed our present day ideas of Christmas. Some have even gone so far as to impose on Dickens, that he himself is, well, Father Christmas. The sole craftsman of what we consider the modern Christmas season.
In the last few decades, that Victorian ideal of a season based on good will toward man has slowly been elbowed out of the way by consumerism based ideals, but still, the voice of Father Christmas rings out loud this time of year in print, on screen, and stage.
There are few books that have been so widely read, widely imitated, widely criticized, or widely referred to as A Christmas Carol.
Here is a cliff note version of Dickens' life: Charles Dickens was born February 7, 1812 to a 'moderately' wealthy family. As with many authors, it was Dickens' childhood that would define the man. His father, not being great with money, went bankrupt and was imprisoned for debt in 1824. Dickens, then 12 years old, was put to work at Warren's Blacking Factory while the rest of his family went to join the father in prison. (The workhouse is where you were sent to be punished for being poor.)
Dickens was at the Factory less than a year, but the ten hour work days, six days a week were quite enough to leave its mark on the author. Shades of this time in Dickens life are seen in many of his works where orphaned and forgotten boys stand at the center of the prose.
Dickens father was able to pay off his debts, affording Dickens the opportunity to attend a day school in London until, at the age of fifteen he became an office boy at an attorney's office while he studied shorthand at night. He was so good at shorthand that it was said of Dickens, he could take down entire speeches and lectures word for word.
In 1830s Dickens worked as a free-lance reporter, here his writing life began to take form. He contributed to Monthly Magazine, and The Evening Chronicle and he edited Bentley's Miscellany.
In 1833, the Monthly Magazine published Dickens first story, "A Dinner at Poplar Walk".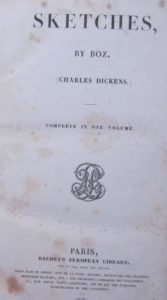 Soon after, Dickens took on the soon to be famous pen name of Boz. His sketches were published in monthly parts from April 1836 to November 1837, resulting in his first book, Sketches by Boz.
Dickens' success as a novelist continued, and most of his first novels were serialized, meaning they were monthly installments in magazines and periodicals; a common practice of the time.
Dickens went on to publish The Posthumous Papers Of The Pickwick Club, Oliver Twist, Nicholas Nickleby, The Old Curiosity Shop and Barnaby Rudge: A Tale of the Riotos of Eighty as monthly installments in the paper before they were made into books. Throughout his literary career, he continued to contribute and edit journals.
On April 2, 1836, Dickens married Catherine Thomson Hogarth and together they had ten children. He and Catherine were married for 23 years, until they separated in 1858, Dickens left her for his mistress, Nelly Ternan. He never marred Nelly, but on his death, he left her an annuity, which made her a financially independent woman.
Throughout his life, Dickens traveled as intensely as he wrote. He went on tour, and did public readings.  His fame throughout Europe and America preceded him.  My favorite fact about Dickens is that he wrote so much, worked so hard, that he kept 7 scribes employed at one time.  Some scholars believe he worked so hard to make sure his family, or perhaps just himself, would never have to see the inside of a debtors prison or a work house ever again; those scars from his childhood continued throughout his life to be a constant black threatening cloud.
Charles Dickens passed away from a cerebral hemorrhage in his home, Gad's Hill Place, on June 9, 1870. He was 58 years old, he had published over a dozen major novels; a large number of short stories; a handful of plays, and half a dozen non-fiction books. Dickens's novels were reprinted in book format after their original format as monthly installments in magazines. Despite his final wishes to be buried elsewhere, he was laid to rest in Westminster Abbey, London in poets corner.
Dickens' legacy lives on, perhaps most eloquently each Christmas season with the simplest overheard 'Bah, Humbug!'.
Here's something you might find interesting, did you know that A Christmas Carol was not meant to be a little story about Christmas, but rather a story meant to combat the treatment of children in work houses?
In the early nineteenth century men, women and children worked six days a week, ten hours a day. It was a result of the Industrial Revolution which had increased production of factory goods which aided in driving many into poverty. The need for the upper classes to assist those who had fallen on hard times rather than sit on them in judgment of them was what Charles saw as a theme to intensely pursue.
Add to that theme Dickens admiration of Washington Irving who, in his book Bracebride Hall, talked about long lost Christmas customs and traditions that needed a revival…well, you can see the seed that was planted.
Dickens thought that the simple act of recreating a long lost English Christmas of old could help begin to heal the state of the modern world he saw as cold and hard. He believed this so much that he wrote about it several times. The first in 1833, in "A Christmas Dinner". The second, he wrote in 1837 in The Pickwick Papers. In this version, a character named Mr. Wardle tells the story of Gabriel Grub, a disreputable man who undergoes a Christmas makeover after being visited by goblins who show him the past and future. It was this version that became a prototype for A Christmas Carol.
As the years progressed, these ideas marinated and mingled with Dickens Fascination of spiritualism. Finally, in early 1843, a litany of events occurred. Dickens toured a Cornish tin mine and saw first hand the working conditions of the children there. Second he visited the Field Lane Ragged School in London, a school for starving, illiterate children. Next, he read the Second Report of the Children's Employment Commission. A report that talked about the inhumane effects the Industrial Revolution was having on the lives of child laborers. Dickens was convinced that education of children was the answer to these conditions, to help children who were so unfortunate they had no choice but to turn to crime and delinquency just to try and survive.
In May 1843, he planned to publish a pamphlet about these conditions. He tentatively titled the work, "An Appeal to the People of England, on behalf of the Poor Man's Child." He did not complete the pamphlet as planned; instead, the planned pamphlet would become what we know today as A Christmas Carol.
There are some scholars that believe A Christmas Carol was the result of a desperate Dickens who needed money. It was written so quickly. Their proof, is the fact that he refused a lump sum payment for the work, instead he choose a percentage of the profits, hoping he'd made more money. Why did Dickens' need more money, his wife was pregnant with his fifth child.
As far as the haste with which he wrote the book, well, he had written the first version seven years prior.
A Christmas Carol was written in six weeks and self-published book, Dickens published it at his own expense. He even went so far as to insist that the binding be lavish, the edging was gold, it contained hand colored illustrations and he even set the price at 5 shillings so that everyone could afford it. Granted, he did not make much money on the book, even though the book sold six thousand copies in the first few days of its release, it was a matter of low profit due to high sales for an affordable book.
In Charles Dickens time, the idea of good will toward your fellow man struck a powerful chord. Dickens is credited as being the first to show a modern world a new way of celebrating Christmas. Instead of putting the importance on the twelve days of Christmas, he showed that any family could create a celebration in their own home in one day. Even with a small income, a small family, a hard working family, he showed that Christmas could still invoke good will and solidify family values.
That little novella, A Christmas Carol in Prose, Being a Ghost Story of Christmas, was written in six weeks and published December 19, 1843, just in time for the holiday season. It was an instant success, so much that the book was adapted as a play, and a reported 8 versions penned less than three months later in February of 1844.
A Christmas Carol was the first in a line of Christmas themed books Dickens would write. From 1843 to 1846, he wrote five Christmas Books. A Christmas Carol, The Chimes, The Cricket on the Hearth, The Battle of Life, and The Haunted Man. Dickens continued to use "what he called "the Carol philosophy" to "strike a sledgehammer blow" for the poor, uneducated, and repressed."2
A Christmas Carol has had its fair share of critics over the years, and they will continue after we are long gone. Some claim that Dickens was more the father of commercialism, rather than good will toward men. Claiming that the Cratchit family was poor, but they had enough money for their own home, a goose for Christmas feast, however meager, and Bob had a job. In his too syrupy sentimental tale, Dickens was only trying to make a fast buck.
Perhaps Dickens knew before he published his book that it would be met with critics and that is why he left a defense of his tale in the preface of the book:
"I have endeavoured in this Ghostly little book, to raise the Ghost of an Idea, which shall not put my readers out of humour with themselves, with each other, with the season, or with me. May it haunt their houses pleasantly, and no one wish to lay it.
Their faithful Friend and Servant, C.D., December, 1843."
Still, I believe as Scrooge's nephew Fred did, "I have always thought of Christmas time, when it has come round…as a good time; a kind, forgiving, charitable, pleasant time: the only time I know of, in the long calendar of the year, when men and women seem by one consent to open their shut-up hearts freely, and to think of people below them as if they really were fellow-passengers to the grave, and not another race of creatures bound on other journeys. And therefore, uncle, though it has never put a scrap of gold or silver in my pocket, I believe that it has done me good, and will do me good; and I say, God bless it!'"
Dickens, Charles: A Christmas Carol. In Prose. Being a Ghost Story of Christmas. With Illustrations by John Leech. London: Chapman & Hall, 1843.
Merriman, C.D. "Charles Dickens." The Literature Network. Jalic Inc. 7 December 2009 <http://www.online-literature.com/dickens/>.
Perdue, David A. "Charles Dickens." David Perdue's Charles Dickens Page. Ed. David Perdue. 7 December 2009 <http://charlesdickenspage.com/index.html>.
"Charles Dickens." Wikipedia. 2009. Wikimedia Foundation, Inc.. 7 Dec 2009 <http://en.wikipedia.org/wiki/Charles_Dickens>.
"A Christmas Carol."  Wikipedia. 2009. Wikimedia Foundation, Inc.. 7 Dec 2009 <http://en.wikipedia.org/wiki/A_Christmas_Carol>.