I love books. A pretty obvious declaration from a writer, I know. But I do. I've read books on electronic devices but it isn't the same for me. We can get into the 'green'-ness of reading electronically, but I buy 99% of my books used…so I argue that's green in a way too. Anyway, there is something about the tactile touch of paper on the tips of my fingers, the fibrous smell of pages, the way the heft of a book feels in my hands…all of that adds to the story that weaves its magic and envelopes me into its rhythm.  I love that.
Lately, my kid has been obsessed with horses. Someone asked me if I ever went through that thing when I was a kid of wanting a horse. I tried to recall my childhood in suburban California and no, since my life nor any of my friend's necessitated a horse, I never did want one. I tried to think about what it was I did long for at that early age and the one thing that came screaming to mind was books.
I wanted books. Lots of them.
At the library I would always check out the same book on Egypt, it was one of my passions as a kid as well. The idea of the ancient Egyptian people coming alive for me in my own little corner of the world was a swoon worthy idea at a young age.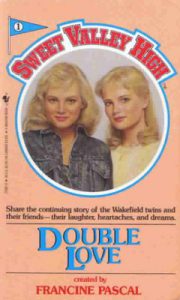 When my teenage years hit, so did the Sweet Valley Twins. There were so many books in that series. And there was so little money. Not to mention they were always checked out at the library. However, a few friends and I would buy a different number in the series and the books would rotate among us.
Later, when the most amazing used book store opened near my house, the Bookman, buying books became a wonderfully serial event. The Bookman still stands today, still has the same amazing collection and really fair prices. I make a pilgrimage there at least once a year for the love of books.
Now, having a love of books and a gypsy spirit, has posed several problems over the years. I would take the most important books but the rest would sit in boxes in storage units because I couldn't bear to part with them. Then, one day, in a very minimalist mood, I gave away almost all of my collection. Those books that I had worked so hard all those years to cultivate and collect. It was an easy thing to do and a difficult thing. There was nothing holding me back any more, but at the same time, I was sorry to see the pages filled with old friends go.
Alas, you can't take it with you…so…
At this point in my life, however, my collection has begun to grow once again, as I have a roof under which to place books and make a home.
I was talking to a friend recently and in passing made the comment that one of my bookshelves has all the books that I did save over the years. Books that were so important to me at such different eras of my life that I could never part with them. Now, that bookshelf stands as a sort of monument to my past. The autobiography of my life as told in book titles, if you will.
I have a signed copy of Fahrenheit 451, a book that rocked my world in sixth grade when my dad gave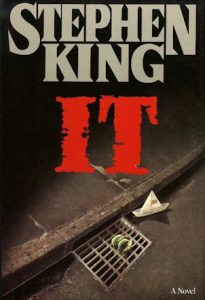 me the book to read. To this day, I'm still trying to figure out what book I would memorize, what book I would 'become' because of Fahrenheit 451. There's a wonderfully tattered copy of IT by Stephen King that I read the summer between 7th and 8th grade, a summer I didn't really sleep much and needed the hall light on all night to fight my new intense demons. The Girl with the Silver Eyes by Willo Davis Roberts, ah that book struck a chord with my adolescent self and my feelings of not really belonging. A Wrinkle in Time by Madeleine L'Engle. That was one of the books that made me want to write. Heaven by VC Andrews. I remember reading it on a choir retreat freshman year of high school. My best friend and I fell in love with VC Andrews books after that one.
Lord of the Flies, Merchant of Venice, Danielle Steele, The Idylls of the King, Into The West, Lives of the Pioneer Women, Through the Flower, Julie Garwood, On The Road…and a handful more that are just as important. These were the titles that impacted my life at various moments when, perhaps, my life needed impacting.
A few weeks ago I was at a thrift store looking through the books and came across a little book by Amanda Carpenter. It's a book with a very late seventies early eighties cover appeal that was put out by Harlequin. I got a warm glow in the pit of my stomach and immediately picked it up. To be honest I almost began to jump about.
You see, a book called The Wall by Amanda Carpenter was the pinnacle of all my writing desires. It isn't a great book, it isn't even the best book ever written. But it was written by Ms. Carpenter when she was 19 years old.
There she was, a nineteen year old girl, little older than me and my friend who, at the time were both about 15 years old and dreaming of writing books, and here was this example, such as we'd never had before, and she was published. There was so much hope for us in Ms. Carpenter's accomplishment, so much promise for ourselves. We held her and her books in high regard, to say the least.
A copy of The Wall has sat on my bookshelf for years, but I felt inspired to find another copy and send it to my friend. A reminder of our hearts desires, of who we once were, who we still are, and at the same time, a reminder of how far we've come.
God I love books.