Favorite Things – Artists
We made it to double digits! It's day 10 of Nicole's Virtual Favorite Things! Wondering what's going on? I explain it all here.
Today we get to talk about artists and the art they produced this past year. I just happen to know a few artists, and I must admit they are part of my own personal FAVORITE things. I admire artist, and knowing the life and inspiration of these artists, makes them even better. Even if they hadn't shared their work with me, I would have strong armed them into doing it anyway.
I know some spectacular photographers as well, which in and of itself is art. I decided to separate the artists who work with paints and the like because…well, I needed 12 days worth of posts!
Melinda is a mixed media artist. Most of the time she can be found in her studio working with powdered graphite, acrylic paint and image transfers. Her art has moved me to tears. I think so highly of her and the way she sees the world. If you are curious to see more of her work, you can find Melinda on Instagram. When I asked her about her art this year, she claimed she didn't do much. Then she sent me the following two gorgeous prints and two awesome photos.
Celeste:
My favorite thing this year is easy, it's my camera that my girls gave me for Mother's Day. You see taking pictures gives me such great joy. And this fall an opportunity fell in my lap to go out west which I took . With my camera I saw such beautiful things took fabulous pictures then came home and wanted to paint my pictures I took . So in about a month and half I painted 24 paintings, which blows my mind, and I haven't stopped. So from one gift, I've gained another full of sooo much joy. That is what has been keeping me together in this upside down world we are living in right now.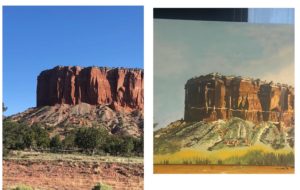 Ashelee:
One of my favorite things this past year was new art supplies. I love getting lost in a creative endeavor. And during this time playing with new art supplies had inspired me to keep doing the things I enjoyed in a mentally frustrating period. Looking forward to playing with new pencils or pens, or a new sketchbook made a depressing, frustrating, busy and also boring period that felt like it was never going to end feel less monotonous. This really boosted my mental capacity to deal with "stuff." I was not creating amazing art pieces. It wasn't about the product, but just about the doing. I was just playing, making marks, splashing, experimenting, seeing what happened. But it was healing for me. And could be for you too. If you are a busy person or don't want to spend much time (or money) on creative supplies, you might take a look at this booklet of watercolor sheets made by Viviva (vivivacolors.com). You can get the watercolor sheets booklet and a water brush in a set, so all you need is a watercolor sketch book (which you can get from this website too). I have enjoyed taking these three simple things with me to play and get distracted by creating while waiting for a class to start, out in the field, or just sitting on my couch.
If you want to see more of Ashelee's artwork, check out her Instagram.
Katie:
I am a working mom with little "me" time, in the middle of a pandemic. I haven't had much of an opportunity to do art the past few years, but I made time for it this year. I forget about time when doing art. I get lost and can just….be. Art is an escape and a solace and a place of quiet.
study of a blackberry