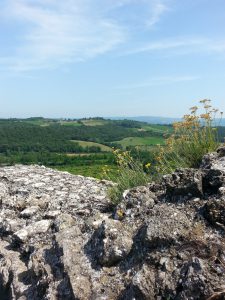 I had an agenda when I went to Florence a month ago. There were cappuccino's to purchase and drink. There were sights to be seen. There were words to be written.
I wanted to stand at the feet of my old friend the Duomo and wonder up at her majesty. I wanted to really take my time and feel my feet on the cobblestones in the heart of Firenze. I wanted to see where the day took me. I wanted to sit in my favorite spot and write. I wanted to eat at meal at 4 Lione (Quattro Lione), this pasta that melts in your mouth. A pasta that is so delicious it's easy to become emotionally attached to it. I wanted to take enough notes and pictures of daily life in Florence that I had more fodder for the web site I do freelance writing for, Trip101. But one of the things I was looking forward to was finding a particular type of work from an artist in an open air market that I failed to purchase for myself the last time I was in Florence.
This sounds like a daunting task, but really, it isn't that difficult. Let me explain.
I have learned a few things about artists in Florence from a man named Xhovalin Delia.  I first discovered Xhovalin in 2001 when I was with a  tour group.  I had just graduated college and the trip was a boon, meaning I didn't have to pay for the actual ticket, but I did have to come up with spending money for myself. I scraped together just enough and when I stood in all these fascinating cities, a starving writing who just graduated college, I had the ability to take only pictures and memories. To write impressions and steal stories. (And you bet your ass, to this day I'm still grateful that I had to see Europe through starving eyes like that.)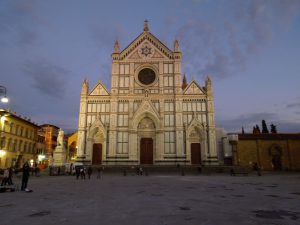 I liked Xhovalin's artwork, it was different from all the other art work I'd seen before. When you don't have a lot of money on a tour, you spend a lot of time on the streets hanging out. Which isn't as horrible as it sounds. In Europe, the streets are where the artists are plying their trade. I asked him how much he wanted for a small picture, just bigger than a bookmark in size. He told me the price and I continued to look through his work. I was so interested, but so broke. I had to decide if the piece was worth 20 bucks. I mean, it WAS worth it, but could I afford it? I was only halfway through the trip. While I debated my funds and began an internal list of pros and cons of purchasing one small piece, I struck up a conversation with Xhovalin. He isn't an Italian native, he's actually from Albania, but he found his muse in the Tuscan landscape. He isn't just a street artist, he has his own gallery and has had multiple shows all over the world. While the work he sells on the street is all Florence, in his gallery and on-line he sells his abstracts, his surrealism, his intense talented paintings where color meets Florence.
At this point in my life, I've been lucky enough to have wandered the streets of Florence enough to know that Xhovalin's style is different from everyone elses.
As we talked that day, I told him I had just graduated from college. That I was a starving writer. I told him, as one artist tends to tell another one, of my dreams and what I was trying to do and we bonded over a common language and recognition of each other's soul.
He gave me the painting then.
And trust me that was not my intent.
I thought perhaps he just wanted this crazy blonde American to stop talking to him, but no…he pulled out his business card. He wrote down his website and email address. (Remember the days when this was a really big deal…16 years ago?)
He told me about his inspiration, how he captured his muse when she soared. We talked about Florence and art and the artists who came before.
I handed over the twenty dollars in the end, from one artist to another and because I truly did appreciate his work. He asked me to choose another painting then as well, from one artists to a writer.
I find Xhovalin in the Piazza in front of Santa Croce church every time I've returned. He doesn't remember me. I don't know why, when he plys his trade on the streets for Florence, a city that receives 11 million visitors a year. And he himself talks to soooo many crazy blonde tourist. Still, I buy art work from him and tell him I've met him before. That a hundred years ago we talked about art in this very spot at dusk. And I tell him I'm still writing and occasionally I click over to his website and check out his world. To silently celebrate the accolades he continues to receive.
This trip I looked for him, but he was not there. His art work was, and one of his fellow artists was looking after his setup, but Xhovalin was nowhere to be found. That's the thing, the artists in Florence have a usual place they set themselves up. For sixteen years I know that I can head over to the Piazza in front of Santa Croce and find Xhovalin.
This trip, as one of the items on my list was a specific piece of artwork by a woman who I had seen in front of the Pitti Palace, chances were good that she would still be there.
I found her. Found the piece I wanted and without haggle or much of a conversation really, I purchased my art, gave my thanks and pressed the wrapped package to my chest as I walked away.
The painting is primarily of poppies growing in a Tuscan countryside. Only the poppies are spilling over, out of their original encasement.
It's what Tuscany feels like sometimes, but mostly, it's what creativity feels like to me.
That you can try to contain it, and sometimes we do, but no matter what, it's always going to push through the boundaries, push past old standards, push beyond capability and soar. It's an unexpected badge for me this year, a reminder to continue to allow my own creativity and art to spill over the confines I sometimes, unknowingly, apply to myself.