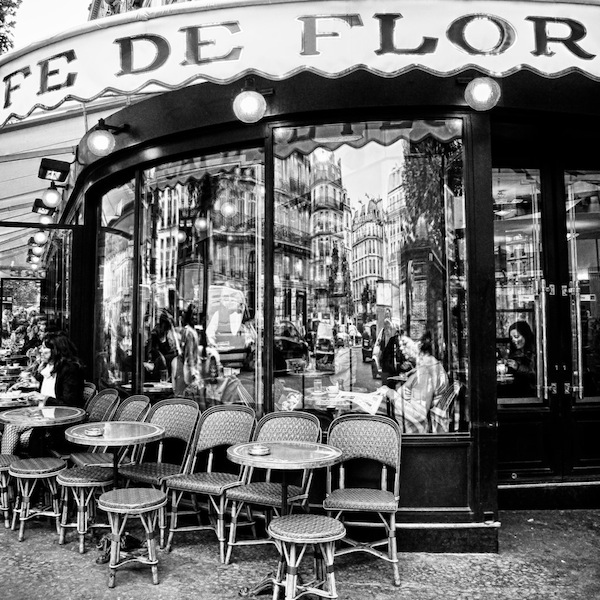 Lately, I have been missing the ability to write in coffee shops any time I want.  You see, I have a toddler at home.  I don't talk about it much because this blog is about writing.  I love my toddler, but hey, a girl can miss the good ol' days. every now and then.  Today I found an old writing journal, which isn't much of a surprise.  I have journals for just about everything.  Still, as I re-read this journal, a yearning for the old single writer life washed over me for a few moments.  I miss walking downtown in the dusk hours, settling in a dark corner of a dim coffee shop as the light of the day disappears and writing my angst out.  I still write, but now I do it during nap times and after bed time has been executed.
Here's what caused today's yearning; what I found in an old journal:
Hemingway used to do this – come to bars and sit in dark corners and drink and write.  I sit in this Basque bar and imagine this is exactly the same kind of establishment he would have stopped to write his stories; as he searched for that one true sentence.
I ordered a beer and some traditional croquetas, these creamy cheesy deep fried numbers, just so I could write.  I prefer coffee shops to write, but tonight was a bar sort of evening.  An exercise in independence is what this is…was.  It has now turned into a Hemingway exercise.
I love that I can have these Hemingway moments.  I raise my glass in a ghostly toast to Papa, "to the words" I whisper and write this journal entry while I flip pages and write the beginning of a short story and let the worries of the day dissipate.
Beer gone, my bones dissolve into a warm gooey mass of worry free lightness.  I'm a cheap drunk it would seem.  The waiter asks if I would like another one and since I'm walking tonight and since it's cold out, I agree to it.  I look around the dark, comfortable hole in the wall bar.  The walls are crude, brick, adorned with black and white pictures of women in full skirts, dark shirts and a sort of traditional white scarf entwined around their bodice.  Happy smiles as they lean on some outdated farming equipment.  And I sigh oh Hemingway.
He was a fan of such dimly lit places.  I think he was.  I imagine he was.  I don't think it was ever for the camaraderie, in Paris that must have just happened with the wide group of like-minded artist he knew.  He must have spent time writing and inevitably, they, his peers, his friends showed up and sat down and began to talk of all movable feastly sorts of topics.
I write his name these days as if it's reverent.  As if I'm Ophelia and I sigh his name, never more, oh Hemingway.  We've been through a lot lately he and I.  I find myself reading his words, reading several biographies of him, writing stories that resound of his voice, perhaps.  'Papa' is just a phase right now, last year I was in love with all manner of Renaissance; writers, painters, philosophers, artists.
I wonder what kind of a relationship Hemingway and I would have had if we had known each other.  I don't think I would have been a woman he slept with, perhaps once maybe.  Just a sort of two-libidos-passing-in-the-night sort of thing.
But I think we would have been pen pals.  Not the best of friends, maybe two people who had one great conversation one magical drunken night when the moon was laughing high in an inspired sky.  Then, wanting to hold tight to that moment, we would write each other.  We would exchange thoughts and news from our corners of the world.  I would show him my work and he would challenge me and break my heart a little with his honest criticisms.
I think it would be that way, I would hope 'Papa' would be impressed with something I wrote; and he might be with one or two sentences.   But we don't know each other.  I simply have a love affair with a stranger I know through words and stories and who knows nothing of me except the relationship I dream up on a page.  In a dark bar.  On a cool winter night.
I pay my bill as another couple comes in and sit down at the bar, I overhear them say "We just stopped in for one beer before we go home for supper."  And I can't help but smile to myself.  It's apropos and I'll turn it into a metaphor for life right here:  Perhaps that is what we, all of us, are doing; just stopping by for one beer before supper.