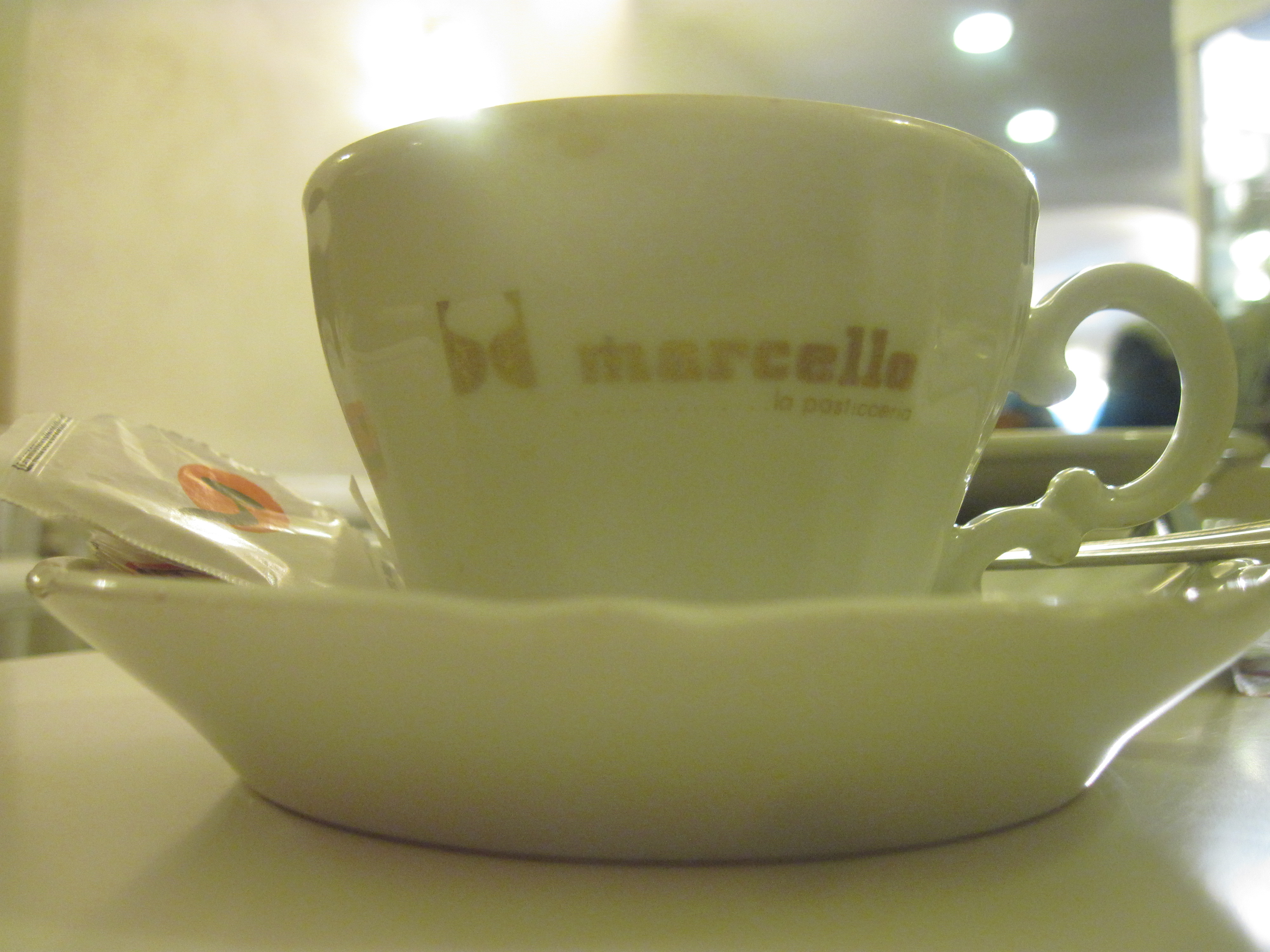 The Italian Cafe from about 8 to 10 in the morning is a thing of pure beauty.  A well-oiled machine that just begs the foreigner to stand back in awe.
People crowd around the pastry case first, no well-formed line, just a general understanding of who might take their turn next.  Neighbors greet each other at their friendly neighborhood café on their way to work.  In the daily life of the Italian, they have a pastry and a coffee for breakfast; a large lunch and finally a demure dinner.  There is no snacking in between, maybe a quick apertivo on the way home from work, stopping by ones local neighborhood café once more.  A café that no longer offers breakfast goods, but has transformed into a bar with a spread of sandwiches, cheeses, breads, pappa al pomodoro (a little tomato bread soup) and an espresso (un café) with a shot of liquor in it, or maybe a red wine.
I could talk about each individual moment of the day at an Italian café, how certain coffee drinks are had at certain times of the day, but for now, oh for now, let's do talk about morning coffee.
I am visiting my sister.  She lives in Florence these past 9 years, and while she goes to work, I get to walk the city streets and indulge. This trip is different from all my tourist trips I've taken before.  This trip I'm taking my time, I have a deeper understanding of the language, I have a deeper understanding of the culture, and I have the luxury to sit back and take it all in.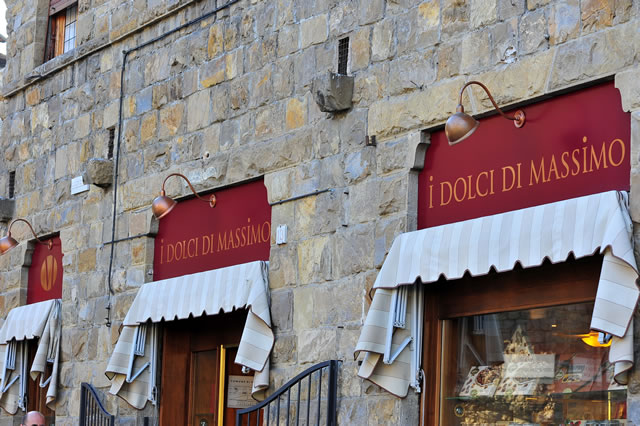 This morning I walk to the nearby i dolci di Massimo pasticceria.  Work starts about ten here, and it's only nine am, so the place is hopping.  I gather into the crowd by the pastry case and while I have time to decide, oh it's a difficult decision.  There are items with Chantilly cream that divine heaven in your mouth, croissants filled with apples, brioche as far as the eye can see, and delicate, inviting fruit tarts.  What do to?
An older blonde woman with what can only be described as a modern, updated version of a Roman face stands behind the counter, handing out una pasta…a pastry that is.  Today I order tre paste per portare via.  Three pastries to take home.  I can't abide to settle for one, I'll save some for later.  Most folks quickly munch away at their pastry as they move from the pastry case to the unorganized group in front of the most coveted area of the bar; in front of the espresso machine.
With a crowd that would normally take a Starbucks staff of four and a lot of time to accomplish, one lone man can achieve without breaking a sweat.
In between calls of 'ciao' and 'come stai' to each other; once they've made their way to the front of the counter, they call out their order to the barista, due cappuccini, un caffe, and without giving any acknowledgement to the one who ordered, within seconds said drink is placed before the orderer.  The sound of clinking cups and saucers and spoon becomes a magical morning symphony that accompanies the rising sun.
Vorrei un cappuccino, I call, I would like a cappuccino. 
My own cup is placed on a saucer with spoon.  I add a little sugar, give a swirl and then…then comes that fine moment when the world stands still and I drink the perfect cappuccino – perfect foam, perfect espresso, perfect size (maybe 6oz) that perfectly tempered mixture rushes down to my stomach and I sigh.  Good morning Italy.
I have been spoiled by the Italian Cappuccino.  When I return to my little corner of the world I call home, I will find no pomp and circumstance to surround a cappuccino of the perfect size, served in a cup with saucer and spoon.  It's all tall, grande, venti's with additives, but that's American. It's who we are on a busy mornings. This; this is not about an American morning.  Right now this is about the Italian morning.
Here, on this cloudy, cool February morning, I take heed, I revel in this moment that I can be a part of.  I finish my drink in three hefty sips, the way they do, then I step away from the bar so another can take my place.  I pay and make my way back down the rainy streets towards my sisters.  How many more mornings will I have to repeat this ritual?  Not nearly enough.