Looking around my living room today, I realize how much I admire artists.  I don't go for names, or reputations, that doesn't interest me.  And most of my art hanging on my walls isn't very similar.  I like art that tells a story.  I have had many ex-roommates over the years, most of them artists.  Talented women.  As a writer I get thrown into this grouping of 'artist'.  I don't feel comfortable when that is done.  I politely suggest that no, I'm not an artist, I'm a writer.
In my opinion, an artist is someone who can show you something concrete, a painting, a picture, a sculpture, a piece of performance art and you have a reaction to that work.
Now, a writer; a writer is someone who, lets say, isn't well known just yet, but gives you a piece of her work to read.  All 200 or so pages because you asked for it.  You can't just look at it and have an instant reaction.  Though, the instant reaction I tend to always receive is one of trepidation, "you want me to read all of this and then tell you what I think?  What if I don't think it's any good?!"  Those words are never uttered, but I see that in the look people give me when I give them manuscripts to read.
That's why I don't think I am an artist.
Gertrude Stein, when she lived in Paris in the 30's, was a collector of great art.  There is a picture of her in her sitting room, the walls are covered with paintings.  If you looked closely, you would find art with such signatures as Cézanne, Gauguin, Renoir, Toulouse-Lautrec, and Matisse.
You could say Stein collected writers just as she did artists.  She sprung an unlikely friendship with Hemingway when he was in Paris.  In his book, A Moveable Feast, Hemingway describes how Stein was the one who urged Hemingway to study the art of the city.  Wanting to purchase some art for himself, he asked her one day, how do you know what art to buy?  How do you know what is good?  Stein replied, you buy what you like, what moves you.  Hemingway said to her, well, I do like Picasso's work.  And quickly, Stein replied, oh no, you can't afford his work.
I always liked that story.  I feel that way sometimes, I have artists I like and I think, you know, I would like to buy that piece of art work.   Then I look at the price tag and am put back into my little writing world where I can't afford latte's and think, oh no, I can't afford his work.
Still, I collect what I can.
Here is a little bit about my walls and their art.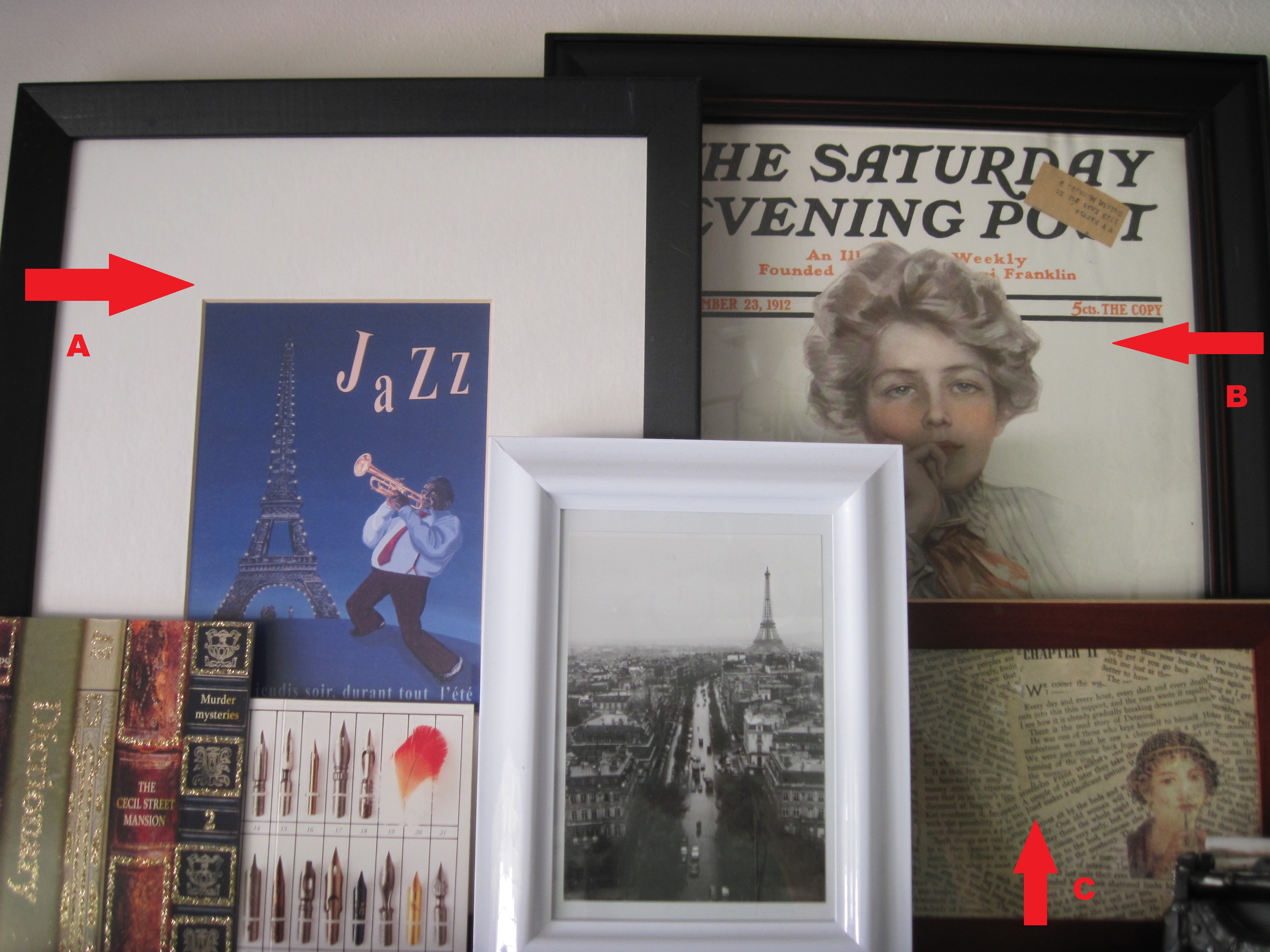 A)     I love Paris, I do.  I've been three times and still have not been to the top of the Eiffel Tower, each trip I save that one thing to do, always promising myself I'll be back.  It's worked so far.
B)      The first time I went to try on wedding dresses, after I was finished and had my choices narrowed down, my cousin gave me this print from the Saturday Evening Post dated November 23, 1912, the article portrayed is called 'Tackling Matrimony."
C)      I love to make collages, this is one of the first one's I did by pasting everything to the inside of the frame.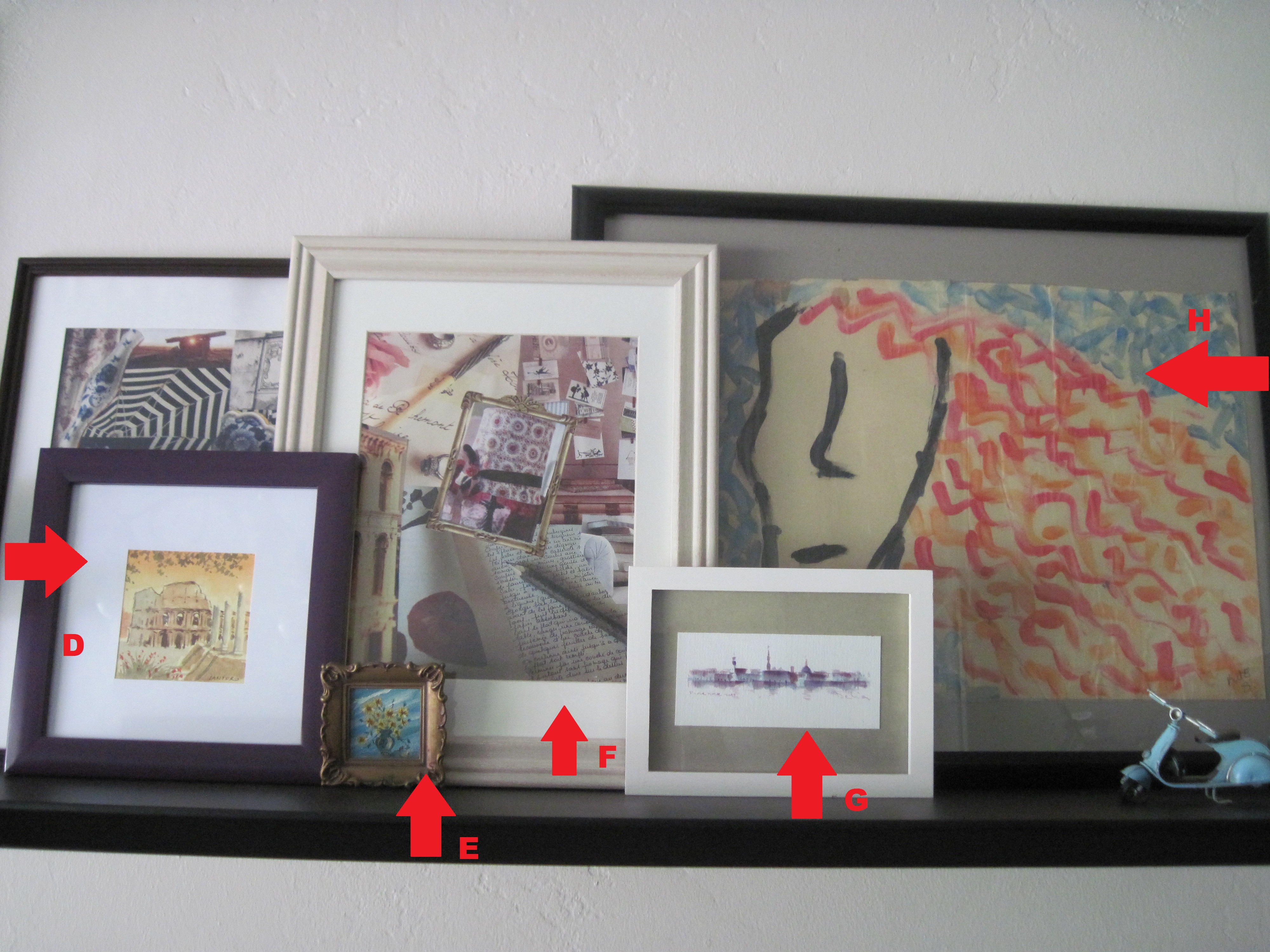 D)     When I was in Rome in 2001, I talked to a lot of street artists.  I love when artists can find a way to support themselves.  I also love the Colosseum.  I found this small print, the artist told me how he wanted to use the colors that made it look like the Colosseum at sunset.
E)       My great grandmother was an artist.  This small painting is one that my grandmother recently found, sunflowers.  I love sunflowers.
F)      More of my collage art.
G)     A trip to Florence and I found an artist I loved.  His name is Xhovalin Della.  I've been to Florence 3 times now, each time I still track Xhovalin down and chat a little.  There are so many artists on the streets who do the same sort of paintings of famous Florence scenes.  His were different.  At the time, this little print was the only thing I could afford.  I dream one day I'll go back and get something bigger.  They spoke to me.  Click on his name to learn more about that man behind the art.
H)     My sister is an artist.  I love her work, she doesn't listen to me though when I tell her.  She was going to throw this piece out a few years ago, but I just liked it so much.  It's traveled from apartment to apartment, state to state with me.  It has come to represent home.
I)        My $2.00 thrift store find.  It reminded me of walking through the small city of Strasburg in France, early morning, seeing the dawn light wake the city and just there, was always the church steeple.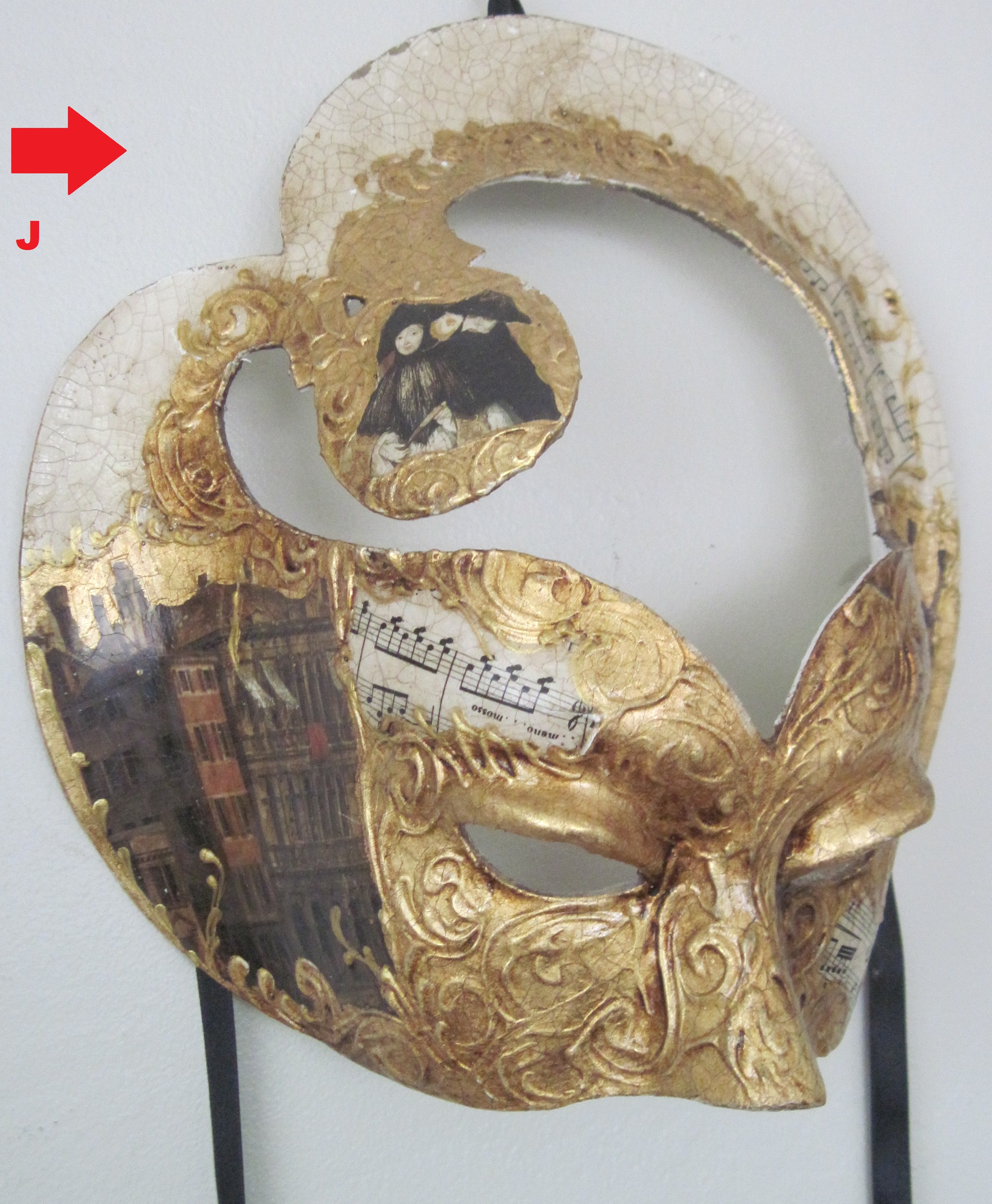 J)       Venice:  I walked the streets there for two days and looked at every mask they had until I decided on this one.  I wanted one that was handmade, different, and from a shop off the beaten path and one that I could get signed by the artist.  This was the end result.
K)      Ward Hooper is an Idaho Native.  His work blends a sense of 40's and 50's travel ads, with his passion for Idaho and watercolor.  I love Moose, Cascade Lake and of course my beautiful Boise.  Fond memories of them all, Ward Hooper brings all these ideals home.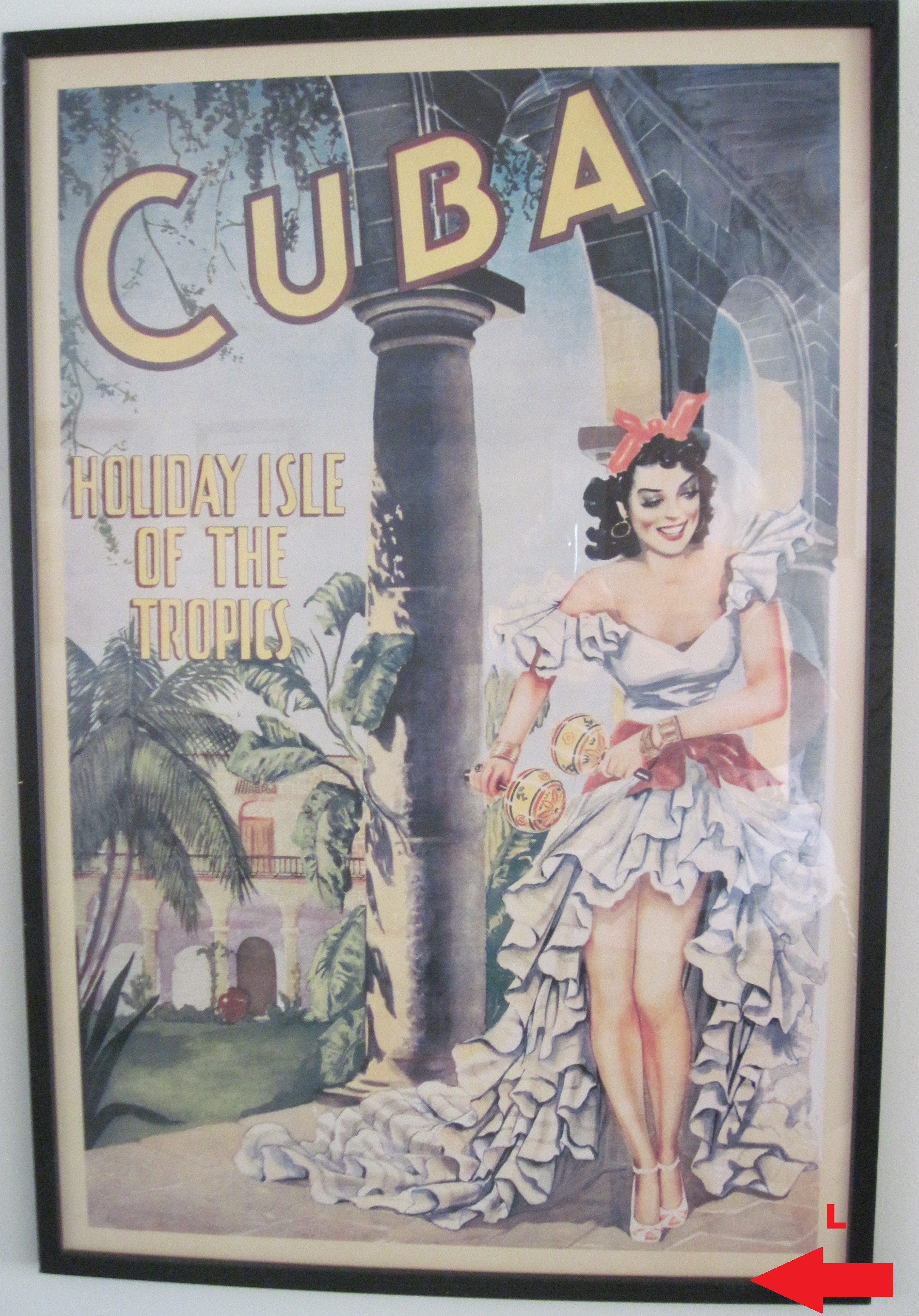 L)       Speaking of vintage travel ads.  This poster is from 1949, Cuba: Holiday Isle of the Tropics.  I love it not so much because I long to go to Cuba, but because my great grandmother, the artist, also did drawings, and one of my favorite is of a woman who looks very much like this.
That's my art, what I like, what I can afford…for now.