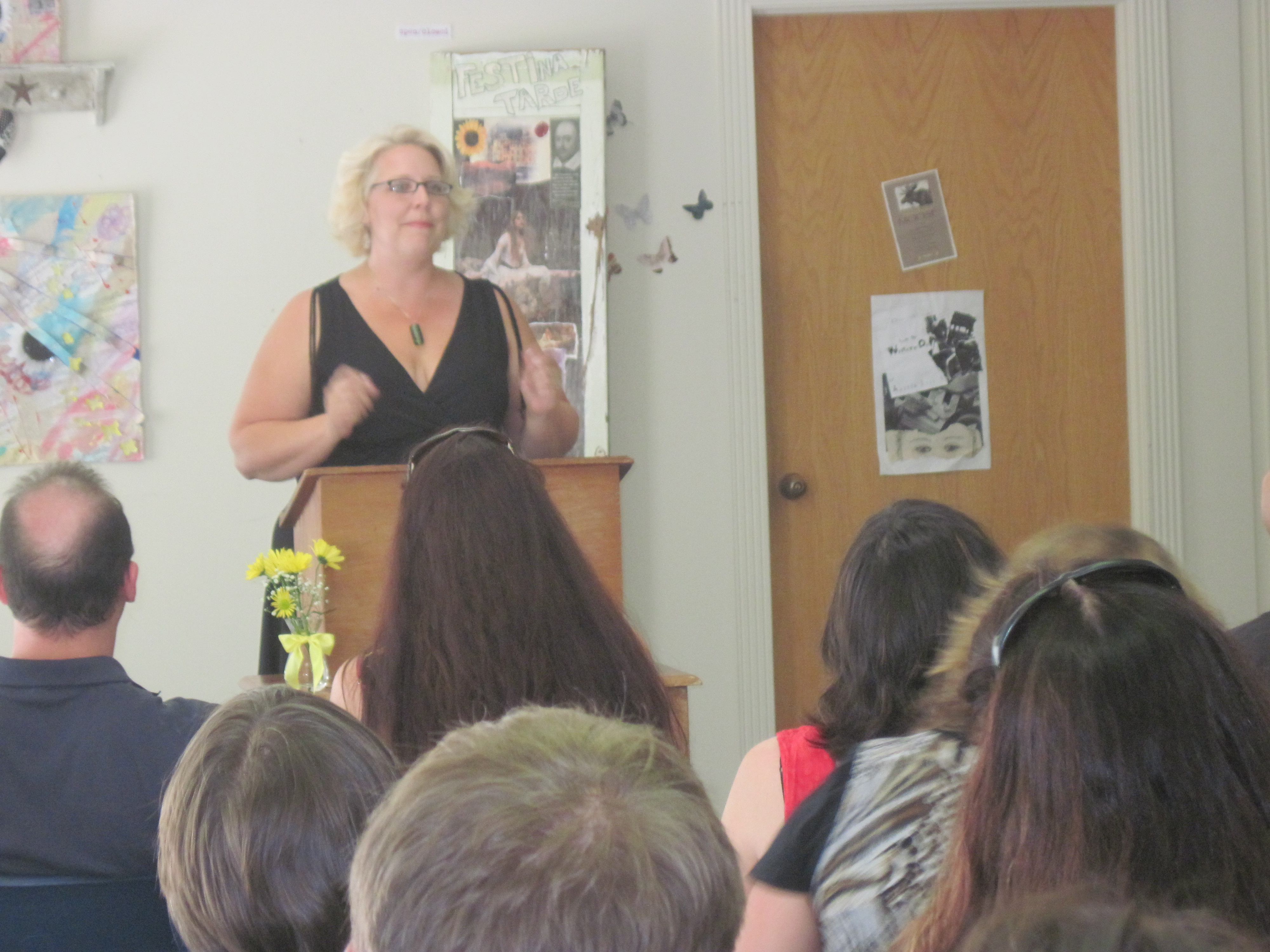 So, I did a live reading of my work, you know, in keeping with that idea of 'dress for the job you want, not the one you have.'  I want to be a well known writer, I want to make my pittance of a living writing words on a page.  So, with my summer writer in residency I decided I needed to make the opportunity work for me.  So, I got that first experience of an author reading out of the way.  Learned a few things, found my nitch, and figured out that I might actually have something to say.  That I might be doing the thing I was meant to do all along: Entertain a few folks for a few minutes.
I'm still on a little cloud, of course not allowing myself to get too ahead of myself.  But I did, am doing, what I set out to do, dress for the job I want, build the railroad tracks across the alps before the train is invented that can make the journey, prove I have market value.
So, to all the Book Club ladies, thank you for the flowers, the support, your encouragement and your all around wonderful-ness!  I wouldn't be here without the nudge ya'll gave me.
To my mother in law, Shelly, who helped keep me glued together beforehand and who insisted on the beautiful flower arrangements and helped add that perfect touch that always brings everything together so well, you don't know how much I appreciate it!
To friends and family who support and encourage me near and far, I'm who I am today because of how you believe in me.  You know who you are!  I am eternally grateful to have each one of you in my life.
Sophie Pippin, my editor since I first came out of that proverbial writing closet!  My words wouldn't shine as well as they do without you my friend!  You are the human dictionary that makes me look like I can spell!
Colin, the man who can make anything happen.  I love you with all my heart.  Thank you for letting me be me.
And last, my family (whose lives are not off limits), who don't cause too much of a fuss when they see slight versions of themselves among my words and stories, yet who are the ultimate cheerleaders that keep me going rejection letter after rejection letter, and win after win.  My family has always helped to keep my feet firmly on the ground so I can let my head float among the clouds.  I love ya'll.
So, if I had a dedication, if I had a book to sell, that would be at the heart of it.  I write the words alone and spend years polishing in solitude, but it's thanks to a great group of people that bring me beyond that door.
Thanks to everyone who came and supported me, and to those who wished they could be there, and were in spirit.
Always,
Nicole Sharp; writer.